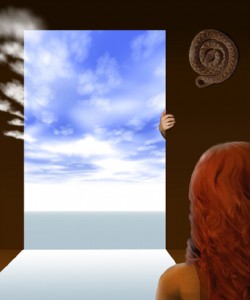 As I mentioned in a previous post, I have started delving into my art again thanks to a dream I had recently that told me I had allowed this part of myself to be stripped away.  In particular, I am going to focus on recreating my own dreams and, lucky you, you will get to see them here on my blog as they are dreamed and then created. As you can see, I have posted the first of – what I hope – will be many to come.  This one I have named, "I'm back."  This was done digitally because, since it has been so long since I've gotten my hands dirty with paint and pastels, etc. I don't have the proper art supplies… yet!
Here is what all this crazy looking symbolism means and pertains to my life… and maybe you'll get some insight into what some of these symbols may mean for you as well.  Obviously, that's me down there in the corner looking at what is going on in the dream.
The wide open door looking out into the sky represents several opportunities that have "opened up" to me lately.  "The sky" is the limit, that is, if I play my cards right.  But due to some personal and emotional issues, what should be a wide open and welcoming opportunity has become "clouded" with uncertainty and even fear, hence the clouds.  I have allowed those clouds in due to my own weaknesses.
The hand that is reaching around the door frame was, in the dream, trying to turn on a light switch but couldn't find it.  That represents my need to find certain things out, my need to "shed some light" on some physical unknowns I am currently dealing with.  It is a male hand rather than a female hand because it is my own male assertive energy that will take action on this unknown and get er dun. 

The hand couldn't find the switch because I still haven't found out what's going on yet.
That coiled up snake on the wall is a cool symbol! Usually, snakes in dreams are connected to a man in the dreamer's waking life that is exhibiting low down behavior – hence their shape -  OR it can be connected to health issues, hence the caduceus, the symbol for physicians… you know, the two snakes wrapped around the winged staff.  I think my dream has two meanings, one is a common meaning and the other is my own personal meaning. It certainly is related to my health issues I am trying to figure out.  The second meaning is connected my latest book "Dream On It," which is about to come out.  It has a cool snake on the cover.  Here in my dream, the snake is coiled and ready to strike because 1. my book is about to hit newsstands everywhere in March and 2. I think I am on the verge of finding out what the deal is with my health issues.
As you can see, all these different symbols in my dream have come together to create a big, and pretty cool, picture for me… a picture with a message.  I believe the message is, "Be patient. You are in the dark and uncertain about some things right now but keep looking up. You can handle it (hence the hand in the dream). There are endless opportunities ahead."
Your dreams work the exact same way. What may seem like a jumbled mess of random objects and happenings are in fact very important and powerful messages carefully pieced together by your wise and knowing dreaming mind.  When you can learn to put the pieces of your dream puzzle together, you'll see the big picture, the important message you are giving yourself through the dream.
Animals in dreams, sex dreams, death, weird things happening to your body PLUS way cool dream art… It's ALL in there!  Grab your copy of So, What Did You Dream Last Night? and understand your dreams like never before!
"I have both of your books. I love them!!  It is so much fun to look up what my dreams mean in the morning.  I don't know what I would do without them!" – Amy, Clearfield, UT
Snakes slither into our dream landscape quite a bit and, from my experience, seem to be just as common to women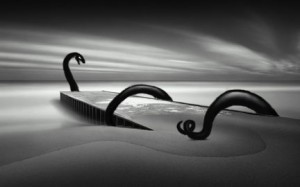 as they are to men.
Last night I got an emergency dream interpretation call from The BucketHead Show out of Orlando Florida.  The host had a disturbing dream about snakes rising up out of the water while he stood on a pier.  As always, the story behind the dream is often more interesting than the dream itself…
In BucketHead's case, which seems to be the case for most, the snakes represented the male viral energy of the heckler.  What I didn't get to address were the slippery shoes. While on stage and being heckled, Bucket Head must have had some concern that he would "slip up" in his counter attacks.  Even if you're a master at the come-backs, there's got to be pressure when you're on stage and all eyes are on you! 
But I suspect he put that guy in his place… because in the dream he was stepping on the snakes' heads, and to the dreaming mind, the head represents the intellect and the ego.  In other words, this dream is a confirmation that BucketHead's wit over-powered the heckler's. 
Are you dreaming of snakes, cats, spiders or other animals? Then you gotta grab yourself a copy of my book So, What Did You Dream Last Night? It's ALL in there!  And it has pretty cool dream inspired illustrations too!
Welcome to the very first Dream Zone Blog posting!!  I'm not sure how this blog will shape and form itself, but I am excited that you are going to join me on this journey!  I plan for this blog to be an additional source of information about dreaming for you as well as a way to join in a community of like minded people.  So when leaving comments, please be nice to each other!
This past Thursday I was a guest on Mike in the Morning on KSII in El Paso, TX.  A lady named Maria called in with a dream about kittens.  While the dream itself wasn't hilarious, the interaction among the caller, Mike, co-host Trish and myself was!! 
Click play to listen to the dream.

That's one of the many reasons I love what I do… dreams are a goldmine of comedic material!!!  If you ever want a career in stand-up KEEP A DREAM JOURNAL!!
While the audio clip is a sound byte, ending at precisely the right comedic point, it does leave you wondering, "What exactly IS the reason the snake is lunging at Maria's mother's throat anyway?"  I explained to Maria that the snake does indeed symbolize her husbands… um… male energy!  And her mother is standing in for her own role as Mom (our mothers appear in our dreams at least once a week on average, btw).  Her dream was telling her that her role as Mom was stepping on her sex life with hubby!
Our Dreams will ALWAYS let us know when we are ignoring or neglecting something that needs our attention.  Maria's dreams sure let her know what part of her life was collecting dust! 
What about you?  Have your dreams ever brought attention to something you were neglecting?