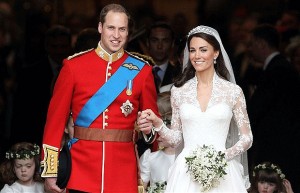 It's a dream similar to one you've probably had many times.  She's walking down the aisle in nothing but her birthday suit!  According to the UK's celebrity rag Now …
Kate Middleton's reportedly been having recurring dreams that she's naked as she walks down the aisle at her wedding to  Prince William.

The Princess-to-be, whose big day's expected to be watched by billions on Friday, is unsurprisingly having last-minute jitters ahead of the ceremony.
'Her nerves have manifested in an interesting way,' claims a royal source. 'A recurring dream she hadn't had for years has raised its head again.
'She finds herself in front of the congregation and then becomes suddenly aware she is completely naked.'
The anxiety dream mirrors a similar one Kate, 29, is said to have had in 2006, just before she started her new job as an accessory buyer at Jigsaw.
And in the embarrassing nightmare, Kate desperately tries to protect her modesty.
'There is a deathly silence – and everyone from the Queen to Prince Philip is staring at her,' the source tells The Sun.
'Kate has joked the worst bit is she can't work out which parts to cover.'
This isn't a bit surprising. It's times like this that the dreaded "naked in public" dream surfaces, whenever you are in a situation where all eyes are going to be on you!! The dream is a manifestation of  the vulnerability that such a situation creates within you, the worry over how others may perceive you. I got the naked dream the night before I was on Good Morning America! But have you ever noticed that in the naked dream, no one else in the dream seems to give a flip that you're baring your shiny hiny? This  is the way your inner mind is reassuring you that it's all okay, that you are the only one giving this situation so much thought… so chill!
Even the royals feel vulnerable from time to time.  Mazel tov to the lovely young couple today!!
Naked dreams, weather dreams, sex dreams, animal dreams, it's all in there! Grab your copy of Dream On It and understand your dreams like never before!

"Ms. Loewenberg has a keen understanding of how the dreams work and explains them in terms that are easy to understand. It took me less than three days to finish this book and now, I'M A DREAM EXPERT! Everyone dreams and everyone wonders at one time or another what the meaning of our dreams truly means. If you want to find out, BUY THIS BOOK NOW!"
- Skip Mahaffey, Author: Adventures With My Father: Childhood Recollections of Divorce, Dysfunction and the Summer of Love