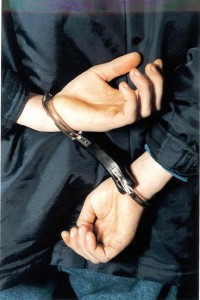 Most of us, in our waking lives, consider ourselves to be pretty decent human beings. We wake up, have our coffee and watch a bit of the news, kiss the kids as they head off to school, we trudge through work, come home, get dinner on the table, kiss the kids goodnight, wash the grime of the day off our body, jump into bed then… dream we're an ax murderer!! Wha??? Where did that come from?
You'd be surprised how many times I hear from good, honest, hard-working individuals who report this dream to me. As brutal as this dream may be, there is a very good reason for it! Read on to find out why… (The following is from my nationally syndicated newspaper column The Dream Zone)
Dear Lauri,
In my dream a policeman knocks on my door and arrests me for murder. I know right away he thinks I killed some little girl I apparently know in the dream. I tell him I didn't do it, that I love her so much. I realize I have to go to jail and I know I will be found guilty even though I didn't do it. I'm so frustrated that I wake up.
- Paulette 59, Santa Ana, CA
Lauri: The police will slap on the cuffs in our dreams when it's time to put an end to or "arrest" something, in our waking life, such as a harmful behavior or a bad situation, etc. What's going on in your life that needs to stop? You're being accused of murder. What have you recently "killed off" in your life? Children in dreams – if they don't belong to us in waking life – often symbolize our own "inner child," our fun-loving, carefree, silly self. Have you not been allowing yourself to have some fun lately? Have you been working and stressing too much? Going to jail indicates that you are feeling confined and held back. What or who in your waking life is confining you? The frustration you felt in your dream is due to some frustrating and confining situation in your waking life… something from which you need to "free yourself!"
Paulette replies: Your response made me cry. It's amazing how much our dreams can tell us, about ourselves. I have been extremely stressed on a new job and it has caused my wonderful happy self to be really crabby. Thank you for the enlightenment.
Your dreams are such a powerful part of who you are!  When you can understand your dreams, you can change your life!!  Just about everything you dream about can be found in my instant dream decoding dictionary. It's like having an electronic version of me available to you anytime you want. You'll NEVER have to wonder what your dreams mean EVER again!

"My mental health clients absolutely love when I log onto your website during a session to find meaning for their dreams." – Scott R.W. Grefrath, LCSW-R   Rochester, NY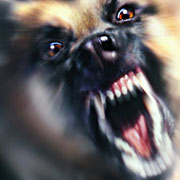 We all tend to do unspeakable things in our dreams from time to time, and sure, these dreams certainly do make us wonder about ourselves, but if these dreams were to be taken literally we'd all be closeted murderers, cannibals and adulterers!
If you find yourself to be a homicidal maniac in your dreams, fear not! There is actually good solid advice for you hidden within that murderous rampage. The audio below is just such an example. I was a guest on Kix 97.9 in Springfield, MA the other morning when a guy named Joel called in and wanted to know why he dreamed of shooting his dog!


You see, even the most vile of acts in a dream hold constructive advice for you. Remember, your dreams are not there to frighten you, they are there to enlighten you!
What sort of heinous things have you done in your dreams?
Are you dreaming of dogs, lions, snakes, or other animals? Then you gotta grab yourself a copy of my book So, What Did You Dream Last Night? It's ALL in there!  And it has pretty cool dream inspired illustrations too!!
"I bought this book for my daughter and she loved it so much she told me I had to get one of my own! Thank you!!" – Yvette, Santa Maria, CA
This is a pretty funny video my brother forwarded to me about violent dreams. In the video the "In The Know" panelists discuss whether seeing images of dead babies and bludgeoned prostitutes in our sleep is desensitizing Americans to violence.
Go ahead and give it a watch, and then I'll tell you what violent dreams are REALLY about. By the way, the F bomb is dropped in this video so be careful if you're at work or around children…
The truth about violent dreams is this… the longer you ignore or mis-handle an issue that needs correcting, the more violent and hostile your dreams will become, until they reach nightmare status! You can go about your day denying there is a problem or simply ignoring it in hopes that it will go away, but at night when you sleep, your issue rises to the surface and your dreaming mind forces you to deal with it.
Let's touch on the dreams in the video.
Dismembered limbs – Something or someone has been or needs to be severed from your life. The anxiety that causes this dream is from your pain over the separation. Either something or someone has left your life that you wanted to hold onto or you know a separation needs to happen but you are afraid to act on it.
Dead babies – A terrible image but an important one. A project, a relationship, something that you cared about that was just getting started has suddenly ended. Your dream is trying to show you this isn't something you can revive so you are best moving on.
Murder - A need to forcibly put an end to something in your life such as a bad relationship, an addiction, a bad behavior, an issue that is not good for you OR a desire to change something about someone around you.  OJ Simpson had recurring dreams of murdering Nicole before he finally acted on it.  Unfortunately he took the dreams literally when his dreaming mind was probably only urging him to kill off his obsession with her.
Spiders – Bugs in dreams mean something is bugging you.  Spiders in particular often point to deceit, a web of lies! Is someone around you not being honest with you?  Or are you the one not telling the truth?
What can you do to reduce the level of violence in your dreams?
The dreaming mind is brutally honest and does not tolerate complacency! So the next time you get a dream full of blood, dismembered body parts or murderous rampages, you need to pinpoint what's been troubling you lately and realize it is high time you be honest with yourself about the situation and do what you need to do to nip it in the bud so you don't end up like the poor sleep deprived woman in the video above!
There are over 1000 dream symbols explained in my book Cracking The Dream Code.  No need to let those troublesome dreams bother you again!  When you can understand your dreams, you can change your life!
"Your books have made a huge difference in my life. Because of your books, I am more aware and open to my dreams and translating them is starting to seem effortless. Thank you!"   – Victoria, Las Vegas, NV