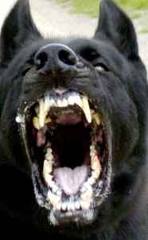 Dogs are the most dreamed-of animal, according to my research, because of the characteristics they possess and because those characteristics are a basic, fundamental human need.  I am talking about loyalty and friendship.  Dogs are known to be loyal to their masters and are also known as man's best friend.  It is their instinct to befriend humans as the relationship between man and dog throughout history has proven to be beneficial to both.  Because of this, dogs in dreams have come to represent our own instinctive loyalty towards someone as well as someone's loyalty towards us.  When you get a dog dream it is always best to look at your relationships first as well as the behavior you and the other person are exhibiting within the relationship.  Do that and, odds are, you'll find that the condition and behavior of the dog(s) in the dream are eerily similar to the condition and behavior of the people in the relationship.
Dear Lauri,
I had a dream the other night that there was this ugly black dog in our house.  It was attacking my children, my dog, and me.  The strange part is, even though he seemed very offensive and was biting us, it was not graphic (none of us were bleeding), but I could actually feel the dog biting me.   –Barbara, Oshkosh, WI
Lauri: Has some ugly situation invaded your peace of mind recently? The biting dog suggests this may have to do with the fact that a relationship or friendship, someone that ought to be loyal to you – symbolized by the dog – is offending you in some way, with criticism or harsh, "biting" remarks.  You feel the bites in the dream because it hurts you emotionally in waking life. Whatever this ugly situation is, your dream is warning you that it is beginning to affect your children too.
Barbara replies: Actually, it's kind of funny Lauri. My sister and I have both been sharing similar stories lately of how our mom is playing us against each other. Or that she is using us (me in particular) as a butt of jokes to boost her own self esteem. What's worse is I haven't really even had a conversation with her since Christmas, as I haven't done the calling. I (and both my children as well) have even unfriended her on Facebook and she didn't even notice. Yet I am constantly hearing how she bashes me and my kids. So, yeah, I guess that makes sense. Thanks!
Now that Barbara can see her mom's behavior as that of the ugly black dog in the dream, she has a clearer picture of the situation and therefor a clearer head when figuring out how to handle it. This is what dreams do for us, give us clarity and understanding we can't really grasp while awake.
Want to know what the different animals in your dreams mean? Just about everything you dream about can be found in my instant dream decoding dictionary. It's like having an electronic version of me available to you anytime you want. You'll NEVER have to wonder what your dreams mean EVER again! When you can understand your dreams, you can change your life!!
"I used your instant dream decoding dictionary to look up the symbols in my dream and WOW….  I had no idea that dreams could tell us so much.  It's so great to have this understanding and I wanted to thank you again!!"   – Patty, Toledo, OH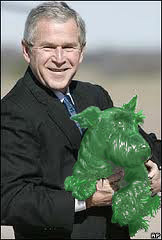 Ever dream about someone that seems so random or from left field that you are left scratching your head, seemingly, all day?  Happens to me all the time!  Last night I dreamed I was in a knock down drag out with Tom Cruise of all people! Had I not spent the past 15 years of my life researching the dreaming mind, I too would have been scratching my head all day over that one.  But since I've been doing this a while, I knew that Tom wasn't playing himself and that I did not have a secret desire to give Mr. Cruise a beat down! Instead, I knew that he represented a part of myself that I am battling… but we'll save that for another time.
Here's what you need to know about what random people in your dream really mean. Everyone in your dream represents a part of you.  You play all the characters in your dream productions because your dreams are messages from you, to you and about you.  So when you, seemingly out of the blue, dream about the head cheerleader from high school, it's not about her… it's about you and how you took on that role the previous day or how you need to take on that role right now.  Maybe you were able to cheer someone up or encourage them, or your dream may be telling you that YOU need to cheer up, that things aren't so bad. Do you see how it works?  Remember, every person in your dream, whether they actually exist or not, is a part of your personality and is there to show you how you are currently performing a particular role in your life.
Below is a great example of how this works.  This is from my nationally syndicated newspaper column The Dream Zone…
Dear Lauri,
I dreamed I was having dinner with President Bush and my parents.  I wanted a cup of coffee but my mom wanted me to wait until the president had his first.  The president got up and started doing the dishes.  Someone let his dogs in and I was playing and cuddling them and getting lots of dog kisses.  The dog I was cuddling was green! Then my alarm went off and I sat up in bed wondering who has a green dog? And why President Bush?   – Lori 53, Council Bluff, IA
Lauri: Bush is a president that is no longer in power so he may represent a part of yourself that is no longer in charge. Have you relinquished your authority or power over someone or something recently? Is there something you are no longer presiding over? Bush having the coffee first suggests that it is time to wake up this part of you so you can start presiding over your life again.  Bush is also doing the dishes. This is typically a mom activity so this may have to do with your own role as mom, if you are a mother. Or, it suggests you are doing some sort of mental cleansing, clearing away frustrations, something like that. The dogs may point to a relationship, someone you have loyalty and companionship with… but one is green! Most often green points to jealousy and less often points to growth. Since this dream seems positive and you are receiving lots of kisses, I'm betting this is about a relationship that is growing and rewarding you.
Lori replies: Wow! This is amazing. Several relationships in my life have been growing. My husband has been recovering from a painful addiction and is making amazing progress! We are closer than we have ever been. I was completely powerless over his addiction. I do feel like I have been woken up about my life in general. The mom issue… I have been reconnecting with my daughter after a long absence and it's really nice.
Got a dream you're wondering about? You can find out what it means in just seconds from now! Get instant, immediate access to my HUGE online dream dictionary (over 5800 symbols), my interactive dream journal and tons of other powerful dream working tools. For a one time fee of only $9.95 you can have everything you need to easily figure out your dreams ANY TIME YOU WANT! You'll never have to wonder what your dreams mean EVER again. Find Out What Your Dreams Mean Right Now

"Using your site makes it beyond easy to figure out my dreams. And now that I am getting their messages I have been able to make big changes in my life with confidence because I now know what my inner mind is telling me to do. Thank you so much for this amazing resource! I don't know how I got along without it!" – Christi F. Phoenix, AZ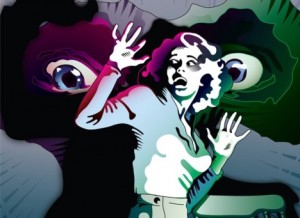 Every single night approximately 14 million Americans are jolted awake by a nightmare.  Nightmares are no fun but they happen to be the most important dreams of all!  Nightmares alert us to something that is wrong in our life, something that needs immediate attention.  The longer we ignore or mis-handle an issue, the more and more hostile our dreams become… until they reach nightmare status!
Yesterday I was guest on WOMX on the Scott and Erica Morning Show in Orlando FL to discuss nightmares for Halloween week.  The very first call got us started off just right with a really creepy nightmare about a crucified dog.  Listen to the audio below.  The real life story behind the nightmare is a perfect example of how a mis-handled issue will result in a nightmare…

What about you?  What is the creepiest nightmare you've had?
Don't let your dreams frighten you!  Let them enlighten you!!  Grab yourself a copy of one of my books and you'll easily understand your dreams every morning and get a HUGE edge in life.
"Your books have been a life saver for me!  Being able to understand my dreams has helped me to turn my marriage around because they were showing me what I have been doing to make our situation worse. Wow. It's unbelievable how helpful my dreams have been to me.  I can not thank you enough."   - Tammy, Flagstaff, AZ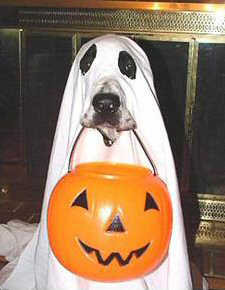 Dreaming of the dead is always disturbing… and even confusing. While I do believe those that have passed on can communicate with us while we are in the dream state, it is important to not look at every dream of the deceased as though it were actually them.
The following dream is a great example. When I was on the air with The Sandbox morning show on WFNX in Boston, Patty called in wanting to know why she keeps dreaming that she has to keep telling her deceased mom and dog that they are dead. Is it because they don't believe they are dead? Is it because Patty hasn't accepted their deaths? Or is it because of something else entirely…


As you heard, Patty was pretty darn firm in her decisions. I just wanted to make sure because… well, I can't imagine that life for myself but hey, to each his own! God love her!!
Dreams help us in every area of our lives, relationships, career, overcoming the past… you name it!  When you can understand your dreams, your life gets better because decisions are easier, tough situations are clearer and you're just plain smarter when you dream! My book Cracking The Dream Code will help you learn your own dream language so you can get an edge in life. 
"I continue to enjoy my book and your website.  I really think my quality of life has improved  with my new insight into dream language."   - Patricia Glaab, Hampton, VA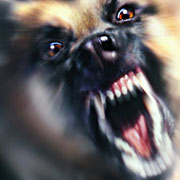 We all tend to do unspeakable things in our dreams from time to time, and sure, these dreams certainly do make us wonder about ourselves, but if these dreams were to be taken literally we'd all be closeted murderers, cannibals and adulterers!
If you find yourself to be a homicidal maniac in your dreams, fear not! There is actually good solid advice for you hidden within that murderous rampage. The audio below is just such an example. I was a guest on Kix 97.9 in Springfield, MA the other morning when a guy named Joel called in and wanted to know why he dreamed of shooting his dog!


You see, even the most vile of acts in a dream hold constructive advice for you. Remember, your dreams are not there to frighten you, they are there to enlighten you!
What sort of heinous things have you done in your dreams?
Are you dreaming of dogs, lions, snakes, or other animals? Then you gotta grab yourself a copy of my book So, What Did You Dream Last Night? It's ALL in there!  And it has pretty cool dream inspired illustrations too!!
"I bought this book for my daughter and she loved it so much she told me I had to get one of my own! Thank you!!" – Yvette, Santa Maria, CA