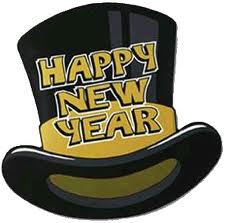 The history of making New Year's resolutions dates all the way back to the time of ancient Rome. The Romans are responsible for the majority of the modern calendar and for the tradition of making resolutions on New Years.
In 153 BCE Janus, a mythical king of early Rome was placed at the head of the Roman calendar by the Roman Senate. In legend Janus had two faces which he used to look to the future and the past. Since it was believed that Janus could forgive transgressions, many Romans would give gifts and make promises at the beginning of the new calendar year. Their belief was that Janus would see this and then bless their life for the entire year.  And thus we have the tradition of making New Year's resolutions.
Sometimes it's hard to decide what New Year's resolution to make because there are so many things we'd like to change, and some of us don't even bother with it. If this sounds like you then you may be interested to know that – whether you can't decide or you don't think it's worth it – your inner subconscious mind knows what you ought to resolve to change this year… and it has probably been nagging you about this for quite some time.  In other words, if you have any of the following common recurring dreams, then you have got yourself fertile ground for a New Year's resolution!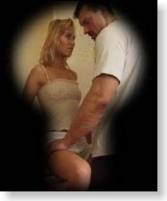 3. Your mate is cheating – This dream has caused a lot of men to get slapped first thing in the morning! But it rarely means that your mate is actually getting his or her pleasures elsewhere.  It DOES mean, however, that there is a third wheel in the relationship. No, not necessarily a person but rather a thing. There is something that your mate is giving too much time and attention to and it is causing you to feel "cheated" out of the time and attention you feel you should be getting.  Usually the third wheel is work, but it could be something like fantasy football, the X Box, golf or a new baby that's taking all the focus away from the relationship.
The resolution – Resolve to carve out more time for each other.  Ask your mate if they can cut back a bit on all the time he or she is giving to this other thing. Don't be naggy about it. Offer up a compromise.  "If you cut back on X then I'll cut back on Y," for example.  If this isn't possible because the third wheel is work or a new baby, then make a date night. Once a week make sure you create a time and place where it is just the two of you focusing on nothing else but each other. This will not only fan the flames in your relationship, it will stop those awful cheating dreams dead in their tracks!
2. Filthy, clogged or out of order toilets – This dream often has major Eew factor! It's also one I get a lot.  In this dream you gotta go! But you either can't find a toilet or the ones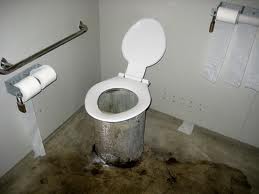 you do find are nasty, clogged, out of order or even in a place where everyone can see you go! This recurring dream means you have a recurring behavior pattern of "holding in" your frustrations and negativity rather than ""relieving yourself" and opening up about what is bothering.  These dreams are showing you what you are doing to your inner psychological plumbing: you are allowing it to get backed up! The more you hold in what you feel is "crappy," the more life will stink!
The resolution – This year, start working on letting it out.  It doesn't matter what others think of you. If something is bothering you, holding it in is the worst thing you can do. That will only lead to tense relationships, angst, headaches and even back pain! When we hold in emotional frustration, it starts to affect us physically.  So let it out and flush it away.  You'll be surprised how well those that are frustrating you will be able to handle it… and most importantly, you'll be surprised how great your clean, clear emotional plumbing feels!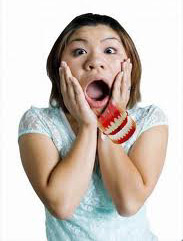 1. Teeth falling out – Believe it or not, this dream has nothing to do with your oral hygiene! Anything having to do with the mouth in a dream is actually connected to the way you have been communicating lately.  Loose teeth in a dream mean loose speech in waking life. And if they fall out of your mouth uncontrollably, then odds are you've let something slip out of your moth the previous day. If you gossip, if you say things without thinking about it or tend to continually say things you wish you hadn't, you're likely very familiar with this recurring dream.
The resolution – Start thinking before you speak! Once it's out of your mouth, you can't put it back in.  Be mindful that what you say affects others. The loss of teeth in waking life would make you worry about your looks the same way bad communication might make you worry about how you appear to others.  Just as you polish those pearly whites for aesthetics, polishing up your communication skills will make you shine too.
It's a new year.  Why not create a new you?
Got a dream you're wondering about? You can find out what it means in just seconds from now! Get instant, immediate access to my HUGE online dream dictionary (over 5800 symbols), my interactive dream journal and tons of other powerful dream working tools. For a one time fee of only $9.95 you can have everything you need to easily figure out your dreams ANY TIME YOU WANT! You'll never have to wonder what your dreams mean EVER again. Find Out What Your Dreams Mean Right Now
"Your online instant dream decoding dictionary has changed my life! It is so easy to figure out my dreams now. I can't wait to use it in the morning. The interpretations have been so dead on it's scary. And it is amazing to me how much my dreams have to say. I was actually able to recognize a certain friendship was really bad for me because of what my dreams were telling me. So I just wanted to thank you for this."   – Colleen, Stockton, CA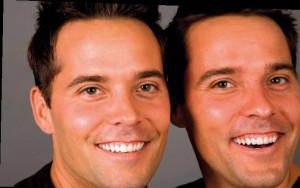 Every Wednesday I get to dissect a sex or relationship dream for my friends at  Em and Lo: Sex, Love and Everything In Between  This week's dream is from a VERY confused woman who had a cheating dream with a twist…
Recently, I had a very strange dream: I was making out with a guy, when suddenly, my boyfriend walks in, I hurriedly let go of the other guy and start apologizing to my boyfriend. Seems to be a rather logical scenario, right? Weird thing is: the guy I'm making out with, when my boyfriend walks in on me, is actually my boyfriend!  Basically, I'm cheating on my boyfriend with my boyfriend.
We're in a relationship of 3.5 years now, with weekly sleepovers, dying to move in together but forced to wait — I'm in my last year of college, he's looking for a job — and I don't really get what this dream means.  I really love him, I'm sure we've got a future together, but cheating on him with him somehow seems significant.  Could you help me understand? 
Lauri: You are correct!  This dream is indeed significant!  But it's not so much about the cheating element as it is about the making-out element.  Kissing in a dream is actually about intimate communication because — like kissing — it takes two mouths to communicate.  The day before this dream, do you recall having a deep, intimate and meaningful conversation with your boyfriend?  And did it seem unusual or out of the ordinary in anyway?  Did it allow you to see your boyfriend in a new light?  Did you learn something new about him?  Did you see a different part of him?  Was there any element to the conversation that made you realize that he isn't who you thought he was… but in a good way (hopefully)?
There is also a hint of guilt in this dream that we must explore.  The guilt you feel in the dream is directly connected to something you feel a little guilty about in waking life.  Did your boyfriend perhaps show you a side of him that you rather liked but he was embarrassed about?  Perhaps you delighted in him showing you his vulnerable side, which perhaps goes against who he likes to portray himself as?  What in real life did you apologize to him for?  Did you laugh at something he didn't think was funny?
Whatever the case, it seems your BFF has two sides to him that conflict with or contradict each other but that you kinda dig.
Response from Dreamer:
Well, I did have this dream shortly after we had a serious conversation about his job hunting. He had to quit college about a year ago and still hasn't found a job. Times are though, but I was afraid maybe he wasn't searching hard enough. Thing is… He kept the job-hunting for at home; when he's over at my place, he wants to forget about the stressful hunt for a while.  He told me he sends out about five applications a day when he's home, but that he gets answers for maybe one in ten.
I feel kind of guilty for not trusting him about the job hunting.  People keep asking me why he hasn't got a job yet, did he apply at [insert some company's name here] allready, because it would really be something for him.  Their questions made me feel as if I should push him more.  He is serious about finding a job, and getting frustrated about being denied every chance.
I feel guilty for doubting him and sad for not being able to change a thing. Happy that he finally opened up about it though, he can be quite tight lipped about his fears and worries.
Strange sex dreams, death of a loved one, weird things happening to your body… It's ALL in there!  Grab your copy of So, What Did You Dream Last Night?  and understand your dreams like never before!
"Your books have given me so much insight into my dreams it's crazy!!"   - Anne, Huntington, IN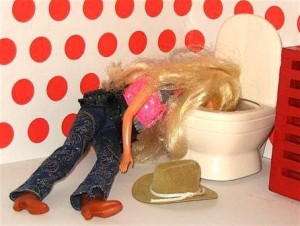 Every Wednesday I get to dissect a sex or relationship dream for my friends at  Em and Lo: Sex, Love and Everything In Between  This week's dream is pretty sick…
I had a dream that I was in the living room and had taken some pills and I was getting real dizzy. Then when I was walking towards the bathroom I went into the bedroom and saw my fiance having sex with a blonde chick. Then I started throwing up. Next thing I know he was trying to help me throw up the pills. Then my phone rings in real life and it's him calling me! What the hell?!
Lauri: Something must have happened recently that was "a hard pill for you to swallow." The dizziness in the dream is connected to uncertainty in waking life. This issue is making your head spin! And it probably does not have to do with your fiance. But let me assure you that just because you see him having sex with another woman in your dream, doesn't mean he is getting his pleasures elsewhere in real life… unless you have good reason to suspect him! Most likely, he is giving his time and attention to something else and it has become a third wheel in your relationship, to the point that he isn't by your side as much as you would like while you deal with this issue of yours that has been hard to swallow.
You begin vomiting in the dream because this issue of yours is very unhealthy for you and you need to purge yourself of it immediately, and doing so may involve getting an awful lot off your chest. Your fiance finally comes around at the end of the dream to help you out, which means he was likely a "Johnny come lately" in real life. He finally came to your side to help you rid yourself of the unpleasant issue. Better late than never! Oh, and the fact that he happened to call in the midst of the dream? Most likely coincidence.
Dreamer's response: Wow, thank you, I really like this interpretation! There is a lot going on in my life: I recently found out my real father's name; I have a six month old and I have a stepson who is seven; my fiance was a cheater when I was pregnant and he proposed to me when I told him that I was tired and I wanted to leave him. A lot has changed. He has stopped being selfish and he finally apologized for everything one day when I was intoxicated and let it all out. The wedding is set for June 2010. But I still have cold feet — I am scared of getting hurt.
Don't let your dreams frighten you!  Let them enlighten you!!  Grab yourself a copy of one of my books and you'll easily understand your dreams every morning and get a HUGE edge in life.
"I just love your book.  Actually I have both of your books.  They are spot on in your interpretations."   – Carol, Pittsburgh, PA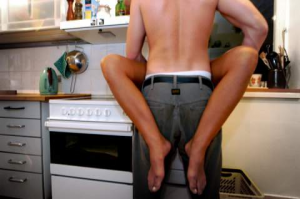 Every Monday I get to dissect a sex or relationship dream for my friends at  Em and Lo: Sex, Love and Everything In Between  This week's dream is from a gal whose dream is HAWT…
I'm in the kitchen and a guy who is about 5 years younger than I am enters.  Apparently he is also living with me and my husband here. He begins to embrace me from behind and whisper sexual things in my ear and then he penetrates me from behind while we are up against the door so that no one can get in. I don't tell him to stop or anything. I just let it go on. Then when we are done we carry on like normal. Then I woke up.
The problem is I would never cheat on my husband and my husband and I have a great sex life. We go at it almost every day. And if the kids are gone then maybe more than once a day. I have a friend who has a young man staying with her and her husband right now so at first I thought the dream was a message to her through me but now I'm not so sure. What do you think it means? Please help.
Lauri: Your dreams are always going to be messages about you to you, not someone else.  You see, we are all very narcissistic when we dream.  When we dream we go inward and explore our own thoughts and issues and aspirations.  We figure out our own lives, not someone else's.  When dreaming it is all about Me, Me, Me!  That's why understanding your dreams is a great way to get an edge in life. That being said, the kitchen setting of your dream suggests that it is about something YOU are planning, preparing for or "cooking up" in waking life.
The younger man, who apparently is living with you and hubby, represents some element within your marriage, some issue, behavior or attitude the two of you have been "living with."  He comes up from behind you. Anything behind you in a dream often refers to something from your past OR something that ought to be put behind you and in your past.  Just as you allow him into your body in the dream, so have you allowed this issue or behavior or attitude "back" into your life.  Usually, an unknown man in a woman's dream represents her own "male" energy, also known as yang or animus energy, which is the assertive part of you. The part of you that takes action, brings home the bacon, puts your foot down, etc.  Has something from the past come back into your life causing you to be the one in the marriage to "wear the pants", as they say, or be the bread winner?
You do your business up against the door so no one can get in!  That is significant and most likely points to the waking life issue being a private matter OR a matter about which you don't care to hear other's opinions or advice.  Whatever the case, it is something you are comfortable with and feel is "normal" for you… and so I say to you, "Rock on, sista!"
Dreamer's response: OMG! This makes perfect sense. Yes there is something we are both dealing with from my past and it has caused lots of problems but recently we began working through the issue. Thank you so much because now I know how to proceed and what to do next. I let others issues go before mine and I've put a hold on things that matter to me for the last 10 yrs and there are about to be some changes. Nothing too drastic mind you. Just enough to let my hubby and the other issues in my life know that there's a new sheriff in town! Thanks again Lauri.
Dreams help us in every area of our lives, relationships, career, overcoming the past… you name it!  When you can understand your dreams, your life gets better because decisions are easier, tough situations are clearer and you're just plain smarter when you dream! My book Cracking The Dream Code will help you learn your own dream language so you can get an edge in life. 
"Your books are my favorite gifts to give!  Thanks Lauri!"   – Vicki, Henderson, NV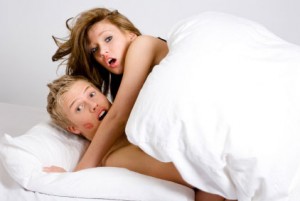 Every Monday I get to dissect a sex or relationship dream for my friends at  Em and Lo: Sex, Love and Everything In Between  This week's dream is from a gal who keeps dreaming her boyfriend has a cheatin' heart…
Hi, I have been having this recurring dream about my boyfriend of seven years. The first one I had we were at a party .  My mom, and my best friend were at the counter doing shots. When I turn around there is this guy that has no pants on. I jokingly tell him to go put his pants on, then I realize that my boyfriend is missing. So I go in search of him and find him in bed with some blonde chick! He turns to look at me with this smug expression.
Next I am dragging this girl by her hair down the steps.  I go back upstairs and attack him, repeatedly punching him in his face.  I woke up bawling, shaking.
Then I dreamt he had forgotten something important and this girl calls me and says, "don't be mad at him. We were a little busy last night."  I then call him and say, "What's the deal?" He replies that he has fun with her and he can do what he wants with whomever he wants. Then I woke up. But it really bothers me because he is always at work, or so he says. I want to still be able to trust him but after having these dreams it's hard.
Lauri: Let me reassure you that dreaming that your mate is cheating on you is the most common dream we all get and it rarely means that is actually the case. So if these dreams are the only reason you don't trust your boyfriend, you need to do some re-evaluating. You mention that he is always at work — that right there is very likely the cause of these dreams.  As far as your dreaming mind is concerned, his work is the third wheel in this relationship.  When our mate spends too much time, attention and focus on something that does not involve us, we get the cheating dream.  It happens because we feel "cheated" out of the time we want with our mate. 
Let's take a good look at this first dream, as I think it may speak volumes about your relationship! You are with your mom and your best friend.  They are likely representative of the roles you play in the relationship.  Would you say you are your boyfriend's best friend? And do you also nurture and "mother" him? Perhaps even nag him as well?  The party atmosphere suggests that, for the most part, your relationship is a good time!  The guy without the pants is an interesting element to this dream! You tell him to put his pants on.  Keep in mind that dreams are a conversation with the self.  What you are really doing is telling yourself to put some pants on, i.e. take charge! Has his work schedule been bothering you? Have you been wanting to put your foot down about it?
After the pants incident is when you realize your boyfriend is missing.  Whenever someone is missing in a dream it means we miss them, we aren't seeing them as much as we would like. See how this is all tying together?  This is why, when you find him, he acts as if he is proud. Remember, the girl represents the third wheel in your relationship: his work.  He must be proud of his work or at least the time and effort he puts into it.  The anger and pain you inflict upon these two is directly connected to the pain and frustration you must have over all the time he spends at work.
And notice in the second dream the girl tells you, "Don't be mad at him. We were really busy last night." Remember, dreams are a conversation with the self.  You are telling yourself not to be so angry. His work keeps him busy.
Basically, your dreams are alerting you to the depth of your frustration over all the time he spends working.  Maybe I'm a little old-fashioned, but I'm not so sure you can dictate to him what his work schedule should be…not until the "I do's" are exchange, anyway.  But you can let him know that it often leaves you feeling out in the cold.  Maybe he can rearrange his schedule.  But if he's not in a position to do that, then you may want to fill your empty time with friends or a hobby — anything that gives you something to focus on besides the fact that he isn't there.
Strange sex dreams, death of a loved one, weird things happening to your body… It's ALL in there!  Grab your copy of So, What Did You Dream Last Night?  and understand your dreams like never before!
"Your book surpassed my expectations!  It's wonderful.  I am very pleased."  -  Nancy Van Horn, Brookfield, WI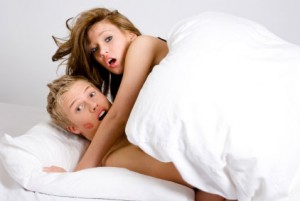 Every Monday I get to dissect a sex or relationship dream for my friends at Em and Lo: Sex, Love and Everything Inbetween  This week's dream is from a pregnant gal who dreams her babydaddy is cheating on her…
I caught the father of my unborn child in a unknown bedroom in bed with an unknown woman. I was very upset and kept telling him to get up, but he acted like he wasn't hearing me. This is the second dream I've had with this situation.
Lauri: Hopefully you have no other reason to suspect him of getting his jollies elsewhere than these dreams, right? If there is no other reason to suspect him, then fear not! It is actually quite common for a pregnant gal to dream her mate is cheating… especially once she has lost her girlish figure and feels more like a school bus than anything else. You are in incubator mode and often, sweet lovin' is the last thing on your mind! You may be aware that you aren't having sex with him as much as you used to and deep down you're worried he is either not finding you attractive anymore or is finding other women more attractive than you. If this is not the case then you may be feeling "cheated" out of attention from him in other ways. Is he not showing enough concern over your delicate condition lately? Is he not appreciating your mood swings, swollen ankles and sharp shooting pains that go from your hamstring all the way up your back? Maybe you don't feel he is doing enough for you or hearing your complaints, which is why he did nothing in the dream and acted like he didn't hear you. Whatever the case, the dream is alerting you that there is some form of disconnect… enough of a disconnect that your dreaming mind had to give you the message more than once. Perhaps you can raise these concerns and clear the air. A good way to start the conversation is, "You know, I've been having the strangest dreams…"
What kind of crazy dreams did you have during your pregnancy?
The dreams we have during pregnancy can be doozies! But there is no need to let them worry you any more! I have a whole chapter on dreams during pregnancy in my book So, What Did You Dream Last Night?  It covers daddy-to-be dreams too! PLUS nightmares, sex dreams, animals n dreams… it's all in there! Grab yourself a copy today and understand your dreams like never before!!
"My girlfriend LOVES this book, and our friends who have picked it up from the coffee table have dug it too. That's why I had to order 2 more!" - Robert, Kill Devil Hills, NC