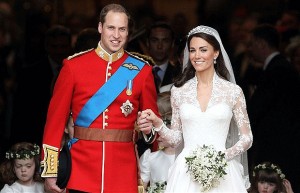 It's a dream similar to one you've probably had many times.  She's walking down the aisle in nothing but her birthday suit!  According to the UK's celebrity rag Now …
Kate Middleton's reportedly been having recurring dreams that she's naked as she walks down the aisle at her wedding to  Prince William.

The Princess-to-be, whose big day's expected to be watched by billions on Friday, is unsurprisingly having last-minute jitters ahead of the ceremony.
'Her nerves have manifested in an interesting way,' claims a royal source. 'A recurring dream she hadn't had for years has raised its head again.
'She finds herself in front of the congregation and then becomes suddenly aware she is completely naked.'
The anxiety dream mirrors a similar one Kate, 29, is said to have had in 2006, just before she started her new job as an accessory buyer at Jigsaw.
And in the embarrassing nightmare, Kate desperately tries to protect her modesty.
'There is a deathly silence – and everyone from the Queen to Prince Philip is staring at her,' the source tells The Sun.
'Kate has joked the worst bit is she can't work out which parts to cover.'
This isn't a bit surprising. It's times like this that the dreaded "naked in public" dream surfaces, whenever you are in a situation where all eyes are going to be on you!! The dream is a manifestation of  the vulnerability that such a situation creates within you, the worry over how others may perceive you. I got the naked dream the night before I was on Good Morning America! But have you ever noticed that in the naked dream, no one else in the dream seems to give a flip that you're baring your shiny hiny? This  is the way your inner mind is reassuring you that it's all okay, that you are the only one giving this situation so much thought… so chill!
Even the royals feel vulnerable from time to time.  Mazel tov to the lovely young couple today!!
Naked dreams, weather dreams, sex dreams, animal dreams, it's all in there! Grab your copy of Dream On It and understand your dreams like never before!

"Ms. Loewenberg has a keen understanding of how the dreams work and explains them in terms that are easy to understand. It took me less than three days to finish this book and now, I'M A DREAM EXPERT! Everyone dreams and everyone wonders at one time or another what the meaning of our dreams truly means. If you want to find out, BUY THIS BOOK NOW!"
- Skip Mahaffey, Author: Adventures With My Father: Childhood Recollections of Divorce, Dysfunction and the Summer of Love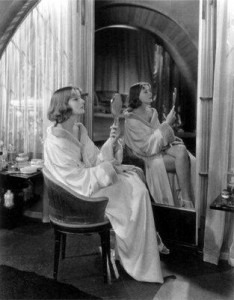 Do you ever see your own reflection in a dream? Most people are unable to see themselves in a mirror when they dream… or when they do, they tend to look really strange! We rarely look like ourselves when we look into a dream mirror. The reason why is because our dreaming mind looks at our self psychologically, not physically. Below is a good example of how our dream reflections work. This is from my nationally syndicated column The Dream Zone…
Dear Lauri,
I dreamed I was choking on something I drank. When I looked in the mirror, I saw all these veins of blue all over my face. The veins were heavier on the left side than the right. I was freaked out by the veins so I woke myself up.   – Nikole 35, Memphis, TN
Lauri: Like a mirror, dreams are a reflection of what's really going on in our life as well as what is going on within the self. Your dream seems to suggest that you may have recently choked on your words in some way. Is there something you need or want to say but can't or didn't? When a dream draws attention to the face, it usually means there is a reality you need to face, and your dream mirror is showing you that reality quite clearly. What you see in the mirror is not a commentary on your physical appearance but rather a reflection of your psychological state at the the time of the dream. That being said, the veins on your face are more likely a play on words and mean vain. Are you afraid that speaking up about a certain issue may have been "in vain?"
Nikole replies: This is too funny. There's definitely a situation I could've handled differently. I could've spoken my mind but decided it would be in vain and not worth the trouble. Funny how I missed the literal translation because I was so focused on the color blue. I didn't explicitly tell someone how I felt about their actions and I just let the friendship end quietly. It wasn't worth the effort when I looked at it as a whole.
Lauri replies: That may be why the veins were heavier on the left side of your face. Through the dream you were probably "facing" the reality that this issue would be better "left" alone.
Nikole replies: That makes perfect sense. Thanks for making it all so clear.

Speaking of clear, being able to understand your dreams will bring  clarity to your life. You will develop a much deeper understanding of yourself, your behavior and of the world and the people around you.  Problems and difficulties can be solved with confidence and ease. That's why when we have a tough issue to figure out we say, "let me sleep on it." What we're really saying is, "Let me Dream On It!"  Grab your copy of  Dream On It today and understand your dreams like never before!
"I love Dream On It! I have referred to it for a different reason every single day since I got it.  It's been very eye-opening and all the girls in my office want to borrow it. I love how she writes and breaks everything down into simple terms."   – Heather, Wichita, KS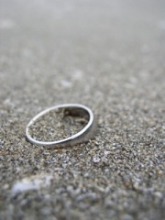 I am somewhere where there is lot of sand. I walk and, looking down, suddenly find two rings of carnelian stone. I think to myself, "These are like my father." Then, further along, I spot another glimmer in the sand. I walk to it and pick it up: it was just like a diamond ring, all shiny and sparkly, and I think to myself, Maybe it is my wife's… Then I wake up. – Sayed
Lauri: What an interesting dream! Let's start with the setting. All the sand may refer to the sands of time. Is there anything going on in your life that seems to be taking lots and lots of time to happen? All the sand could also imply this is a desert setting, in which case this dream may be about an area of your life that has not been very productive lately, an area of your life that feels barren, where there is not much going on. Your dream is showing that, in the midst of all this waiting or in the midst of all this lack of progress you have managed to find value.
The carnelian stones represent that value you have found. Since they remind you of your father, they could be a reference to some sort of wisdom or lesson he taught you. Or, they could represent your own role as a father. Are you a father or wanting to become one? If so, perhaps you have found some sort of peace of mind or strength in that role. The reference to your father may also be linked to your finances as our fathers in dreams often represent our own ability to bring home the bacon and manage said bacon. Are you in a destitute financial situation but are starting to find a glimmer of hope?
You then find a shiny diamond ring that you feel is your wife's. And that is the point at which you wake up. The point at which we awake from a dream is the main point our dreaming mind wants to leave us with. This shows us that you truly value her, that she also gives you glimmers of hope right now. Through this dream you are realizing that, like the precious stone that is a diamond, so is your wife precious. Aaaaw.
Response Sayed: Thanks for your analysis. I have been in financial trouble since I recently lost my job – but I'm looking for another and there is hope. My wife works. We live with my parents. We haven't been able to have children yet. I checked with a doctor and he had told me about a year back that my sperm count is low. Since then I have tried all sorts of medication and therapy related to stress. Yes, my wife is precious and I just Love her

Thank you very much of taking time to analyze my dream.



Whether it is a problem with your relationships, your career, your self image or your finances, your dreams hold all the answers! My latest book Dream On It will help you to understand your dreams like never before! When you can understand your dreams, you can make huge, positive and lasting changes in your life.
"I found myself unable to put this book down.  After reading "Dream On It", I feel more in the know. I feel I have a better understanding of what I had no understanding of. It's nice to know that there truly is meaning behind what our brain is showing us when we sleep. I suggest reading this book… not just once, but twice at least. A great reference tool! I have all of Lauri's books. This is by far my favorite!"
– Treena Seabolt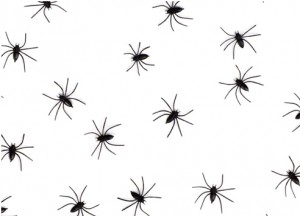 There's nothing more annoying than a roach scurrying across the floor, or an army of ants invading the pantry, or a swarm of mosquitoes chomping on everyone at your Barbecue. That is why, when we get annoyed over situations or people that pester and infest our mental space, we say that something or someone is really "bugging" us. This is also when these little suckers will creep and crawl into our dreams.
This morning I was a guest on 95.5 WIFC in Wausau, WI with Dave and Stacy when a listener called in complaining about the spiders that had infested her dream. Listen to the audio below and find out what shocking situation caused this dream. I'll tell you, it started quite the discussion!


It occurred to me after the call, that the sidewalk in the dream is connected to how Tiffany has been "side" stepping the issue. What do you think Tiffany should do? Do you agree with Stacy and Dave? Has anything like this ever happened to you?



Whether it is a problem with your relationships, your career, your self image, your finances, your dreams hold all the answers! My latest book Dream On It will help you to understand your dreams like never before! When you can understand your dreams, you can make huge, positive and lasting changes in your life.
"I found myself unable to put this book down.  After reading "Dream On It", I feel more in the know. I feel I have a better understanding of what I had no understanding of. It's nice to know that there truly is meaning behind what our brain is showing us when we sleep. I suggest reading this book… not just once, but twice at least. A great reference tool! I have all of Lauri's books. This is by far my favorite!" – Treena Seabolt