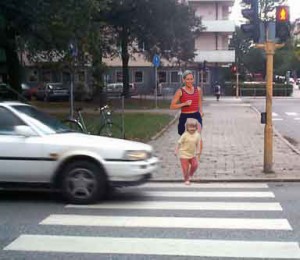 Hey parents, ever get that horrible dream where your child runs into the traffic of a busy street and… BAM!! Unfortunately, it is a very common dream, but the good news is that it is NOT a dream that is showing you the future so fear not. As disturbing and heart-wrenching as this dream is, it is actually coming to you to make sure you appreciate the time you and your rapidly growing munchkin have together.
I was a guest yesterday morning on KWTX 97.5 in Waco, TX with Chrissy and Dillon when a very distraught woman called in with this dream. Give it a listen and find out what it REALLY means…

That dream you're wondering about right now is trying to tell you something YOU NEED TO KNOW! When you can understand your dreams, you can change your life.  Find Out What Your Dreams Mean Right Now
"My mental health clients absolutely love when I log onto your website during a session to find meaning for their dreams." – Scott R.W. Grefrath, LCSW-R   Rochester, NY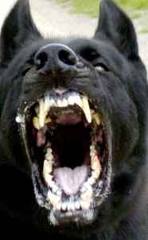 Dogs are the most dreamed-of animal, according to my research, because of the characteristics they possess and because those characteristics are a basic, fundamental human need.  I am talking about loyalty and friendship.  Dogs are known to be loyal to their masters and are also known as man's best friend.  It is their instinct to befriend humans as the relationship between man and dog throughout history has proven to be beneficial to both.  Because of this, dogs in dreams have come to represent our own instinctive loyalty towards someone as well as someone's loyalty towards us.  When you get a dog dream it is always best to look at your relationships first as well as the behavior you and the other person are exhibiting within the relationship.  Do that and, odds are, you'll find that the condition and behavior of the dog(s) in the dream are eerily similar to the condition and behavior of the people in the relationship.
Dear Lauri,
I had a dream the other night that there was this ugly black dog in our house.  It was attacking my children, my dog, and me.  The strange part is, even though he seemed very offensive and was biting us, it was not graphic (none of us were bleeding), but I could actually feel the dog biting me.   –Barbara, Oshkosh, WI
Lauri: Has some ugly situation invaded your peace of mind recently? The biting dog suggests this may have to do with the fact that a relationship or friendship, someone that ought to be loyal to you – symbolized by the dog – is offending you in some way, with criticism or harsh, "biting" remarks.  You feel the bites in the dream because it hurts you emotionally in waking life. Whatever this ugly situation is, your dream is warning you that it is beginning to affect your children too.
Barbara replies: Actually, it's kind of funny Lauri. My sister and I have both been sharing similar stories lately of how our mom is playing us against each other. Or that she is using us (me in particular) as a butt of jokes to boost her own self esteem. What's worse is I haven't really even had a conversation with her since Christmas, as I haven't done the calling. I (and both my children as well) have even unfriended her on Facebook and she didn't even notice. Yet I am constantly hearing how she bashes me and my kids. So, yeah, I guess that makes sense. Thanks!
Now that Barbara can see her mom's behavior as that of the ugly black dog in the dream, she has a clearer picture of the situation and therefor a clearer head when figuring out how to handle it. This is what dreams do for us, give us clarity and understanding we can't really grasp while awake.
Want to know what the different animals in your dreams mean? Just about everything you dream about can be found in my instant dream decoding dictionary. It's like having an electronic version of me available to you anytime you want. You'll NEVER have to wonder what your dreams mean EVER again! When you can understand your dreams, you can change your life!!
"I used your instant dream decoding dictionary to look up the symbols in my dream and WOW….  I had no idea that dreams could tell us so much.  It's so great to have this understanding and I wanted to thank you again!!"   – Patty, Toledo, OH
Every Wednesday I get to dissect a sex or relationship dream for my friends at Em and Lo: Sex, Love and Everything In Between This week's dream is from a gal who is wondering why she's dreaming of kissing her ex, especially an ex she didn't really like…
Before I went to sleep, I'd just had a disagreement with my boyfriend and we settled it. It was something silly and laughable in the end.
That night I dreamed that a guy that I used to be involved with was laying on top of me kissing me! (I didn't think this particular guy was right for me and ended up breaking it off with him a couple of years ago). Anyway, I remember grabbing his shirt and kissing him intentionally — which is weird because I don't have feelings for this guy (and never really did for that matter). Then I was filled with guilt and pushed him off of me. I couldn't believe what I'd just done. What does this mean???
I love my boyfriend. We've been together for a year and are considering marriage. We've just recently realized some differences in the other and have been working to overcome them because we want to be together. Lately, I've been filled with thoughts about whether he and I could really work in the long run; I've been kind of analyzing him, and the two of us together. I'm scared of what this dream might really mean. Please help!
Lauri: Since you are currently figuring out your relationship with your boyfriend, you can bet this dream is stepping in to help… especially after your disagreement. Okay, let's talk about this ex and see if we can figure out why your dreaming mind chose him to get its message across to you.
Well, he's someone you decided was not for you. When you were having your disagreement with your current boyfriend, did those same familiar thoughts creep into your head, "This guy may not be for me"? If so, then that is what he represents. He's not playing himself but instead personifies what is not right for you. This may be why he was on top of you in the dream. That is a position of dominance, and those thoughts probably dominated your mind for a bit.
Kissing in a dream is almost always connected to conversation in waking life because – like kissing – it takes two mouths to communicate. Did your disagreement with your boyfriend involve a conversation that reminded you of what it was like with your ex? Did you say things to your boyfriend that you used to say to your ex? The good news is that you pushed him off of you in the dream, which means in waking life you successfully pushed away those old, familiar thoughts… and perhaps words, that were eerily similar to what was going on in your mind and coming out of your mouth when you were with your ex.
I believe this dream reflects a certain level of triumph on your part… triumph over old patterns of behavior that may have threatened your current relationship. As much as this dream freaked you out, it was good for you, young lady.
Response from the dreamer: Thank you so much for your response and giving such an in-depth analysis of my dream. You helped me realize that the incident with my current boyfriend conjured up negative feelings that I felt with the ex – feelings that eventually led to me breaking it off with him. I realize now that after the incident, I felt the same way and asked myself the same questions as I did with the ex.
Surprisingly, during that time I'd been thinking about what went wrong in a couple past relationships (the ex in the dream is included). I kept asking myself questions, trying to figure out how I could prevent another similar let down. I wanted to be able to recognize signs with the others that I may have missed while I was involved with them – signs that if I could catch now with my current boyfriend could save me some hurt and pain. When I finally ended the relationship with the ex that showed up in the dream, I wandered to myself "Why did I stay involved with him?" "Why was I even interested in him?" Although I now understand what that ex meant for me during that time in my life, sometimes I get this sneaky doubt that questions if I can trust my own judgment because I was involved with someone who I knew in my gut wasn't a good fit for me. It's no wonder that the ex showed up in my dream!
I feel like this dream and your interpretation has helped me to establish clear connections between the relationship with the ex and the incident with my boyfriend. I don't question my judgment on this issue anymore because I know exactly where it came from. It helped me put the incident into perspective by not letting those fears from past relationships trump the incredible bond I have with my current boyfriend. This has taught me to take away constructive lessons from past relationships and let all the fears and unnecessary crap go and not let them enter my current relationship.
Again, thank you so much for helping me come to a resolution about my dream. I see how dreams help us resolve our conflicts and issues. This was amazing!
Your dreams are such a powerful part of who you are.  They are giving you answers and direction, even warnings you need to know every night of your life. Why wouldn't you want the ability to understand these important, even life-changing messages? Grab yourself a copy of one of my books and you'll easily understand your dreams every morning and get a HUGE edge in life.
"Your books have been so helpful. I'm seeing my dreams in a much different light. I can't believe how simple the symbology is once you get the hang of it. Btw, your drawings are incredible. You're a fantastic artist!"   – Patricia, Chico, CA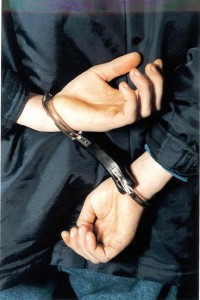 Most of us, in our waking lives, consider ourselves to be pretty decent human beings. We wake up, have our coffee and watch a bit of the news, kiss the kids as they head off to school, we trudge through work, come home, get dinner on the table, kiss the kids goodnight, wash the grime of the day off our body, jump into bed then… dream we're an ax murderer!! Wha??? Where did that come from?
You'd be surprised how many times I hear from good, honest, hard-working individuals who report this dream to me. As brutal as this dream may be, there is a very good reason for it! Read on to find out why… (The following is from my nationally syndicated newspaper column The Dream Zone)
Dear Lauri,
In my dream a policeman knocks on my door and arrests me for murder. I know right away he thinks I killed some little girl I apparently know in the dream. I tell him I didn't do it, that I love her so much. I realize I have to go to jail and I know I will be found guilty even though I didn't do it. I'm so frustrated that I wake up.
- Paulette 59, Santa Ana, CA
Lauri: The police will slap on the cuffs in our dreams when it's time to put an end to or "arrest" something, in our waking life, such as a harmful behavior or a bad situation, etc. What's going on in your life that needs to stop? You're being accused of murder. What have you recently "killed off" in your life? Children in dreams – if they don't belong to us in waking life – often symbolize our own "inner child," our fun-loving, carefree, silly self. Have you not been allowing yourself to have some fun lately? Have you been working and stressing too much? Going to jail indicates that you are feeling confined and held back. What or who in your waking life is confining you? The frustration you felt in your dream is due to some frustrating and confining situation in your waking life… something from which you need to "free yourself!"
Paulette replies: Your response made me cry. It's amazing how much our dreams can tell us, about ourselves. I have been extremely stressed on a new job and it has caused my wonderful happy self to be really crabby. Thank you for the enlightenment.
Your dreams are such a powerful part of who you are!  When you can understand your dreams, you can change your life!!  Just about everything you dream about can be found in my instant dream decoding dictionary. It's like having an electronic version of me available to you anytime you want. You'll NEVER have to wonder what your dreams mean EVER again!

"My mental health clients absolutely love when I log onto your website during a session to find meaning for their dreams." – Scott R.W. Grefrath, LCSW-R   Rochester, NY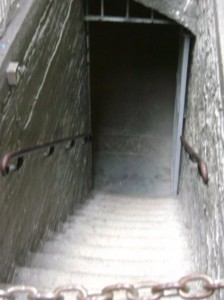 Our dream homes say a lot about us, probably more than any other dream symbol.  Your home in your dream, whether it is your actual home or an unfamiliar home, is also reflective of you.  It is everything about you and how you live.  The style of the home, the condition of the home, what happens in the home, even the rooms in the home are connected to you and how you feel about your self as well as what is going on inside the psyche that your body houses.  The basement is one of the more common rooms that we dream about… for good reason!  When you dream of a basement you really need to pay attention because there is a very serious message waiting for you down there!  Listen to the audio below to find out why the basement dream is not only common, but also super important.  This is from when I was on the air on KISS FM 105.3 in Gainesville, FL with Brett Douglass.


House dreams, crazy sex dreams, death, animals, weird things happening to your body PLUS way cool dream art… It's ALL in there!  Grab your copy of So, What Did You Dream Last Night? and understand your dreams like never before! MAKES A GREAT GIFT TOO!!!
"Your books have been a life saver for me! Being able to understand my dreams has helped me to turn my marriage around because they were showing me what I have been doing to make our situation worse. Wow. It's unbelievable how helpful my dreams have been to me.  I can not thank you enough." - Tammy, Flagstaff, AZ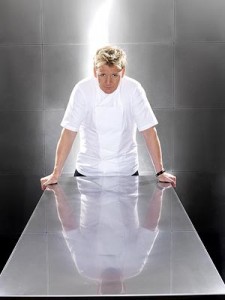 Whether it's Oprah Winfrey, Madonna or Donald Trump, the best way to figure out why a celebrity is making a guest appearance in your dream is to do what I did and ask yourself what it is that celebrity is best known for.  Is it a character they have played on TV or in the movies?  Can you relate that character or show to your life right now?  Is it a song?  If so, does the title or the lyrics speak to you right now?  Whether you are a fan or not, there is something about that celebrity that your inner mind connects with and it uses that celebrity to convey a message to you, about you so that you can continue to shine.
Last night I dreamt I was standing in the kitchen with Gordon Ramsey from the TV show Hell's Kitchen, and a big alligator came in!  I jumped on top of the island and started smacking it with a spatula. Gordon Ramsey then asked me to marry him and I told him I couldn't wait to tell my husband because he thought he was such a cool guy! Ha ha!! – Tracy 30
Lauri:  Anything with large sharp teeth in a dream refers to someone in waking life who has sharp, biting remarks… and Gordon Ramsey is certainly known for his sharp criticism of the contestants on his show. Have you had a verbal conflict with someone recently? Any sharp criticism aimed at you or that you fired off at someone else?  As evidenced by your dream, it seems you handled the criticism just fine… and apparently gave someone the smack down as well!
Tracy replies:  YES!!! Last night in fact! I was sitting down to write my Christmas cards and my husband LOVES to give me a hard time about it. He thinks it's a big waste of time in this day and age of emailing. We go through this every single year. I shot back at him that I enjoyed sending the cards and he needs to leave me alone about it. He also grumbled about the photo I picked for the front of the card and it irritated me to pieces! I definitely felt criticism about the photo.
Through this dream, Tracy identified with her inner Gordon Ramsey, the part of her personality that takes no BS.  This is also why he proposed to her in the dream.  During her dispute with hubby, Tracy professed her commitment to her ritual of sending Christmas cards.  And it went so well that she committed to taking on that attitude for good, til death does she part.  PLUS, this all took place in the kitchen. It must have really felt like Hell's Kitchen in Tracy's house that night!


This was an excerpt from my newest book "Dream On It, Unlock Your Dreams, Change Your Life". This is the most complete dream book EVER! Pre-order your copy from Amazon now and save 47%!
"Dream On It is a must-have for anyone seriously looking to understand the messages their unconscious is sending and how best to use that information."
- Barbara Crook, freelance writer and journalist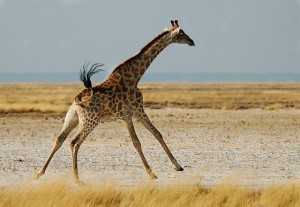 Animals tend to inhabit our dreams just as much as people do. And just like the people that appear in our dreams, the animals have just as much to say to us about our current life and especially about our behavior.  Read on to find out how to figure out the animals in your dreams.  the following is from my nationally syndicated newspaper column The Dream Zone…
"The waking mind is thinking inside the box; the dreaming mind is thinking outside the box." – Professor David Kahn
Dear Lauri,
I had a dream I was being chased by a giraffe. He never caught me though! What does that mean?   -  Betsy, 25, New Haven, IN
Lauri: We often have a menagerie of animals that inhabit our dreams. In waking life, each specific animal has their own specific behavior they are known for: dogs are loyal, cats are independent, elephants never forget. The characteristics that we project onto animals often appear in our dreams in the form of that animal in order to show us our own current actions and behavior, or to show us how the actions and behavior of someone else is directly affecting us. That being said, your dream animal is a giraffe. They are best known for the characteristic of a very long neck. Are you "putting your neck out for someone?" And are you avoiding having to do this? I ask because when we are chased in a dream it can always be connected to running away from an obligation or issue in waking life. The message is that you can't run from this issue forever. It's time to make a decision.
Betsy replies: Oh most definitely! I didn't even think of anything like that! My fiancée and I share his car and it's been down & needing a new engine. I've been the only one trying to make sure it is fixed, everything short of the financial part, which I'm constantly worried I will have to take care of also. Your interpretation was dead on! Thank you so much!
Want to know what the different animals in your dreams mean? Just about everything you dream about can be found in my instant dream decoding dictionary. It's like having an electronic version of me available to you anytime you want. You'll NEVER have to wonder what your dreams mean EVER again! When you can understand your dreams, you can change your life!!
"Last week I called into 92.5 in Toledo when you were on and told you my dream.  You determined I had a secret I was keeping and that my dream was trying to tell it was okay to tell the people I work with. Afterwords I really dwelled on what you said and I used your instant dream decoding dictionary to look up more of the symbols in the dream we didn't touch upon on the radio and WOW….  I had no idea that dreams could tell us so much.  It's so great to have this understanding and I wanted to thank you again!!"   – Patty