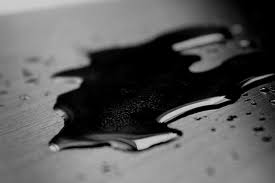 A lot of people, when telling me their dream, make it a point to tell me that they dream in color. The truth is, we ALL dream in color. Often very vivid technicolor! We are designed to see in color, therefore we dream in color too. And sometimes, the color of an object in the dream can really stand out.  When that's the case, pay attention! There is a reason. The following dream is a great example of that. This is from my nationally syndicated column The Dream Zone…
Dear Lauri,
Last night I dreamed that black goo was running down the walls of my shower and a black bear was trying to chew through the ceiling in my bedroom!!   – Nora, Atlanta, GA

Lauri: When colors stand out in a dream you need to pay attention to them because they are often connected to a waking life emotion. Black in a dream usually refers to negative emotions, something you have a bad feeling about. That being said, the black goo in your dream seems to be about some negative, perhaps sticky, situation you have not been able to cleanse yourself of, hence it being in the shower. The black bear suggests this is something that has been somewhat hard to "bear," and it is not only eating away at you but is also something that has been "hanging over your head," just as the bear was eating away at the ceiling. Do you know what it is? The bedroom means this is either connected to an intimate relationship (boyfriend, husband) or it is something that is keeping you up at night.
Nora replies: Well that makes TOTAL sense! I am aware that two friends/co-workers are having an affair and it is indeed a sticky situation. I also know both of their spouses. I left that job in December but the female half of this affair is always asking my insight. I keep trying to tell her it's a bad idea. And to make matters worse, the cheating husband's wife had a baby two days ago. Aaaaaaaah!!  Thanks Lauri, I really appreciate the insight.
Lauri replies: Oh my goodness! So both people are married to someone else? That is sticky. And it is sticking to you because she won't leave you alone about it. Maybe you should tell her you will have nothing to with her so long as she's sleeping around behind her husband's back. Your dreams are likely to continue nagging you about this situation until you disengage yourself from it. Good luck.
Want to know what other colors in dreams mean? How about what different animals mean? Just about everything you dream about can be found in my instant dream decoding dictionary. It's like having an electronic version of me available to you anytime you want. You'll NEVER have to wonder what your dreams mean EVER again! When you can understand your dreams, you can change your life!!
"My mental health clients absolutely love when I log onto your website during a session to find meaning for their dreams." – Scott R.W. Grefrath, LCSW-R   Rochester, NY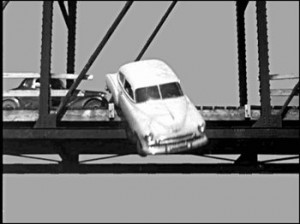 Do you ever dream of driving your car off a bridge? My gosh, you'd be surprised how many people have this dream… and especially surprised how many people have developed gephyrophobia (fear of bridges) because of this dream! Below is one such gephyrophobe. Luckily for her, she sought out the true meaning of her dream, which allowed her to release her fear. The following is from my syndicated newspaper column The Dream Zone…
Dear Lauri,
I have a recurring dream of my car going off a bridge and I have to get me and my two sons out. We always make it out ok. It happens enough that I am spooked every time I go over a bridge and my boys are in the car.   – Denise 32, Memphis, TN
Lauri: You ARE NOT seeing the future so don't worry.  You'd be surprised how many times someone sends me this sort of dream and tells me they are afraid to drive over bridges because of it.  Bridges in dreams symbolize transition, getting from one point in your life to the next.  We often dream of falling off bridges because transitions can be difficult and SCARY!  When we feel unsure of making that transition successfully, we get the falling-off-a-bridge dream.  Ask yourself what tough situation you are currently going through that you wish you could get you and your sons out of, just as you had to get your sons out of the car? You always make it out in your dream.  This is how your dreaming mind is reassuring you that you WILL pull through just fine.  You've got the chutzpa to get through anything girlfriend!  Keep that in mind and this dream won't bother coming back.  Good luck!
Denise replies: I can relate this dream to the fact that I was diagnosed with severe dysphasia/pre cervical cancer in the fall.  I had two procedures to stop the growth and as of now things are going okay.  It's been a very scary experience and I've often wondered if I was going to make it through. This dream makes so much sense now.
That dream you're wondering about right now is trying to tell you something YOU NEED TO KNOW! When you can understand your dreams, you can change your life.  Find Out What Your Dreams Mean Right Now
"I used your dictionary to look up some of the symbols in my dream and wow….  I had no idea that dreams could tell so much! It's great to have this understanding and I wanted to thank you."   – Patty, Toledo, OH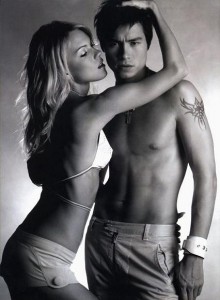 Every Wednesday I get to dissect a sex or relationship dream for my friends at Em and Lo: Sex, Love and Everything In Between This week's dream is from a married woman who is having naughty dreams about a hot Asian guy…
I love my husband, but lately I have been dreaming of another guy I don't even know. In the dream this Asian American looking guy kisses me then undresses me and gently fondles my breasts and starts sucking and kissing my breasts. At that moment I wake up. I feel like I am lying to my husband when he asks about my dreams, because I tell him they're just fine. Can you please help me?
Lauri: Certain naughty dreams that we get from time to time probably are best kept to yourself — not that they mean you desire to get your pleasures elsewhere, but they can cause your mate unnecessary upset. So don't feel bad for that little white lie.
That being said, let's get to the meat of this dream! When interpreting your dreams, it is always important to remember that everything and everyone in your dream is actually representative of some part of you (unless that person is someone you deal with on a daily basis). So, this hot young Asian man is not some mammaphile out there, dreaming of you at the same time, but rather he is a part of your own personality. He is Asian because he is a part of you that feels "foreign" and unfamiliar to you.
Notice his obsession with your ta tas. Breasts in a dream are connected to your own ability to nurture and mother something or someone in waking life. It seems that somewhere in your life you need to — or you have — put your nurturing skills to work, even though it may feel like foreign territory to you. Does hubby, a friend, co-worker or family member need a little TLC? Do you have a project or idea that needs some care and nurturing? Or do you need to take better care of yourself? Whatever it is, your dream is showing you that this caring act — like getting to second base — can be quite pleasing to both parties involved.
Dreamer's response: Wow my dream makes WAY more sense now. I have been trying to have a child with my husband for a couple of years now, but due to finances we keep putting it off. Due to the fact I have PCOS, we know it can get expensive for fertility treatments, so I have avoided taking care of myself and the issue. I guess my brain is telling me to face this head on. Thank you so much!
Got a dream you're wondering about? You can find out what it means in just seconds from now! Get instant, immediate access to my HUGE online dream dictionary (over 5800 symbols), my interactive dream journal and tons of other powerful dream working tools. For a one time fee of only $9.90 you can have everything you need to easily figure out your dreams ANY TIME YOU WANT! You'll never have to wonder what your dreams mean EVER again. Find Out What Your Dreams Mean Right Now
"I used your dictionary to look up some of the symbols in my dream and wow….  I had no idea that dreams could tell so much! It's great to have this understanding and I wanted to thank you."   – Patty, Toledo, OH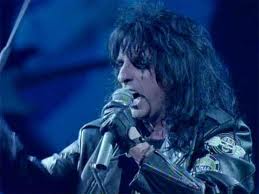 Today is rock icon Alice Cooper's birthday! In honor of the day this earth was blessed with this awesome Rock God, I would like to share with you the time he interviewed me on his radio show Nights With Alice Cooper.
If you've got 10 minutes, please do listen! You'll learn a lot about the nature of dreams, the most common dreams, why we get nightmares and Alice even shares a nightmare he had when he was 6 years old! Pay close attention to that part because I think it very well may have been the genesis of his macabre persona! I just listened to it again for the first time in a couple of years and it really is a riveting conversation. We talk about everything from tidal waves to addiction.


Your dreams are such a powerful part of who you are.  They are giving you answers and direction, even warnings you need to know every night of your life. Why wouldn't you want the ability to understand these important, even life-changing messages? Grab yourself a copy of one of my books and you'll easily understand your dreams every morning and get a HUGE edge in life.
"I absolutely love your books! They are helping me sort my dreams out already." – Belinda, Savannah, GA