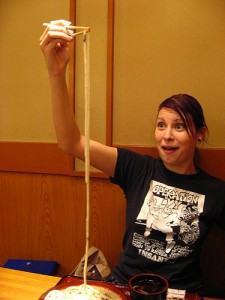 From losing teeth to growing a third leg, a lot of strange things happen to our bodies in our dreams.  It's important to know that the different bodily afflictions we suffer in our dreams are rarely about our actual body but more about our abilities.  The mouth and throat seem to be a favorite body part for the dreaming mind to manipulate.  The reason for the popularity is because the mouth and throat in a dream are really about our voice and ability to communicate and communication is a very common waking life issue for just about all of us.  The dream below is a perfect example…
I dreamt I was in my apartment with my boyfriend and his two kids. I started choking and ended up pulling this extremely long noodle out of my throat and nose. It wouldn't stop and I was gagging on it. I went into the bathroom to get a better look and get it out all the way. When I came back out to the kitchen EVERYTHING was gone and everything was bright white.
– Mandy 24, Merrill, WI
Lauri: The noodle either represents something that has been on your mind (your noodle as we sometimes call our brains) or it represents being too flexible and bending to others needs too easily, which created an uncomfortable situation for you in waking life, hence the gagging in the dream.  You pulled it out of your throat, which symbolizes voicing your displeasure about the situation, a situation that probably went on for too long, hence the length of the noodle.  And notice how everything became white after your sel-inflicted noodle-ectomy.  That's a good indication that you have wiped the slate clean and have a new beginning.
 Mandy replies: The being flexible part really rings true. My boyfriend of a year now, has two kids with another woman. I used to let him do what he wanted when it came to talking to her and seeing her, when it didn't have anything to do with the kids I wanted it to stop but it's a long complicated issue. She's only caused problems with us (on purpose of course). Anyway, I finally said that if he wanted to be with me that certain things had to stop like the hundred phone calls a day, things that didn't have to do with the kids. Since I put my foot down, things have been better. And the length of the noodle seems about right; I've been holding back for a year.
Don't let your dreams frighten you!  Let them enlighten you!!  Grab yourself a copy of one of my books and you'll easily understand your dreams every morning and get a HUGE edge in life.
"I have to say, it's a pretty amazing thing when you can figure out your dreams!!  Your book makes it easy.  Thank you!!"   – Michelle, Richmond, VA
Every Wednesday I get to dissect a sex or relationship dream for my friends at  Em and Lo: Sex, Love and Everything In Between  This week's dream is from a woman who had a creepy dream about her ex and a baby with no face…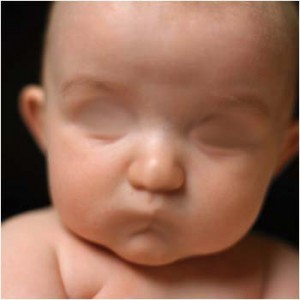 A few years ago, I briefly dated this guy (let's call him X), though we never had sex. We parted mutually after only a few weeks, when it became clear that we were completely incompatible.  I am now in a happy, 2-year relationship with a friend of his, with his blessing. So here's the dream:
X had a one-night stand with an insane girl and was now left with a baby by her, since she was not stable enough to look after it at all. For some reason, even though we aren't close anymore, he came to me for help.  Our interaction with each other and with the child was being watched by a panel of 'judges', and with them looking on (to make sure we weren't 'inappropriate').  I picked up the baby to feed him; his face was gone, replaced by a smooth white china mask with lumps and indentations where the eyes, nose and mouth should be. We smeared food on the mouth indentation, trying to find a way to feed the baby, but it didn't work and then the baby disappeared and I knew that I had failed.  X then took my hand and we sat in silence for the rest of the dream.
Lauri: You must be feeling scrutinized in waking life. Who has been judging you or making you feel inadequate? If it's not anyone around you, then ask yourself if you are the one being too judgmental and critical of yourself.
The baby represents some new element or new responsibility in your life, born out of a confusing, chaotic or "insane" set of circumstances.  You are now left holding the bag and apparently are not feeling up to the challenge.  Did you reluctantly take on a waking life responsibility that you weren't prepared for?  The baby has no face because you may not have yet "faced" the reality of the situation.  I think your dreaming mind chose to use this former boyfriend to illustrate the fact that you have taken on something that you shouldn't have, something that was not a good match for you.
In the end of the dream, the man takes your hand because your inner self is reminding you that you were probably only trying to "lend a hand" in the first place, so don't be so hard on yourself.  The silence suggests that you may need to speak up about the issue because it seems like there was a certain level of injustice that has happened here.
Response from dreamer: Yes, that makes perfect sense!  I was recently dumped with a whole heap of extra responsibility from my family, and going back to study, and am starting to feel like there aren't enough hours in the day!  I also just started a new job which has been separating me from my close friends more and more due to the chaotic hours, so my support group feels like it's dwindling. Thanks so much!
Don't let your dreams frighten you!  Let them enlighten you!!  Grab yourself a copy of one of my books and you'll easily understand your dreams every morning and get a HUGE edge in life.
"All my friends come to me now when they want to understand their dreams.  Your books have made me very popular!!"   – Gina, Syracuse, NY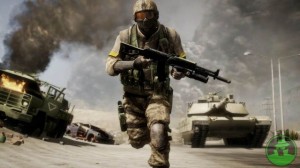 When your head hits the pillow each night, you never know where your dreams will place you.  Will you find yourself in a midievil castle climbing an endless marble staircase, or in your old chemistry class hiding your naked butt behind behind your book bag?  Like I always say (borrowing from Forrest Gump), "Dreams are like a box of chocolates; you never know what you're gonna get."
One of the more common dreamscapes we find ourselves in is a war zone.  Men and women dream of this setting equally.  Wanna find out what it means?  Listen to the audio below.  It's from this morning when I was a guest on KYGO's morning show in Denver, CO with Kelly Ford and Rider…


What about you?  What is the most common setting your dreams take place in?  Lately, my dreams have been taking place in mt Grandma's house the most.
Don't let your dreams frighten you!  Let them enlighten you!!  Grab yourself a copy of one of my books and you'll easily understand your dreams every morning and get a HUGE edge in life.
"All my friends come to me now when they want to understand their dreams.  Your books have made me very popular!!"   – Gina, Syracuse, NY