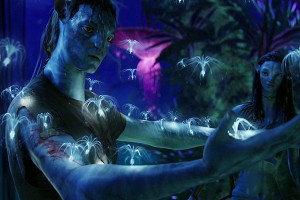 Have you seen Avatar yet? If you haven't, you really should! It's like nothing you've ever seen! It's a virtual dreamscape of floating mountains, glowing foliage, dragons and beautiful, Amazon-like humanoids. It's literally like walking into
a dream… even more than you know!
The look of the Na'vi—the humanoids in the film—was inspired by a dream that writer and director James Cameron's mother had, long before he started work on Avatar. In her dream, she saw a twelve-foot-tall blue-skinned woman, which he thought was "kind of a cool image". He included similar creatures in his first screenplay (written in 1976 or 1977), which featured a planet with a native population of "gorgeous" tall blue aliens. These later became the basis for the Na'vi. On the specific reason for the choice of blue as their skin color, Cameron said "I just like blue. It's a good color … plus, there's a connection to the Hindu deities, which I like conceptually."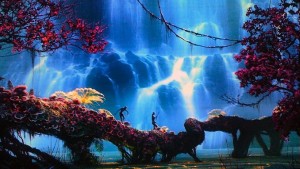 The dream-like setting of the movie was inspired by one of Cameron's own dreams in the early 1990s, which inspired the  treatment he wrote for Avatar in 1995, in which he included the blue people inspired by his mothers dream. He planned to begin production after completing Titanic, but the technology for bringing his vision to the screen did not then exist. Fourteen years later, the technology existed to bring a world he had "seen" to screens allowing the lucky viewers to virtually enter someone else's dreamscape.
Your very own fantastical dreamscape is available to you each and every night waiting to be explored, and it's only as far away as your pillow! And who knows how many million dollar ideas or relationship saving solutions are waiting for you… all you have to do is pay attention.
My book  Cracking The Dream Code  will help you to not only easily access your own dream world every night but also easily decipher the powerful messages that are waiting for you!  "I have to say, it's a pretty amazing thing when you can figure out your dreams!!  Your book makes it easy.  Thank you!!"   – Michelle, Richmond, VA
Every Wednesday I get to dissect a sex or relationship dream for my friends at  Em and Lo: Sex, Love and Everything In Between  This week's dream is from a very confused woman…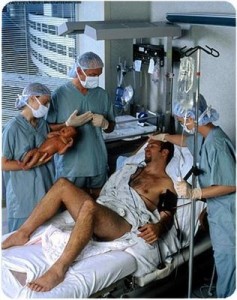 I have been with my boyfriend for over two years, and we are in a very steady and increasingly serious relationship; meaning, there has been talk of living together and possibly marriage. My boyfriend is in almost all of my dreams, but this was by far the strangest I've had…
I was still a woman, and he still very much a man — and he was giving birth to our child! I was standing next to him, holding his hand as he was going through the labor, and we were both overwhelmed with emotion — positive emotion. I remember at one point looking down and feeling as if I could see the little hands reaching out as if the baby was also striving to be born. In the midst of the strain and labor, he looked up at me and said, "Wow, now it's time for me to be a father," and I was encouraging him and just in awe of what he was doing.
Now, for further background information, I am not pregnant and am in no way sure I -ever- want to have kids; but when I woke up from this dream, I was so happy (and also rather freaked out…).  I am super curious as to what's going on here.
Lauri: I'm very curious as to where the baby was coming out? You know, never mind. I think I would prefer not to have that visual! So, let's move on, shall we? This is actually a very lovely dream that reflects the enormous amount of hope you have for the future of your relationship. And that is precisely what the baby symbolizes… the future. It is the "new life" you and your boyfriend have been talking about having together.
Interesting, though, that your boyfriend was the one that was giving birth, which leads me to believe that he perhaps is the one putting the effort into this possibility. Is he the one that brought it up, that "gave birth" to the idea? Whatever the case, your dream is showing you that, like a newborn, your new life together is untainted and full of possibilities, but also like a new baby, your new life together will require a lot of TLC and focus so that it can reach its full potential.
Dreamer's response: Thanks so much. (And as for your inquisition as to the place of the infant's, er, exit, it looked much like a normal birth with a woman to me — which is of course impossible — but, hey, that's dreams.) Your analysis seems spot on with what is going on in our relationship.
Since I have always been extremely hesitant (and a bit cynical) about the idea of marriage, the conversations on the subject have always been initiated by my boyfriend. Or, at least, he is the one who makes me feel comfortable enough talking about things as serious as this. This is not to say I hadn't been thinking about them on my own (which was a self-surprise), but he is the one who brought the ideas we'd both apparently been having to the surface.
And you're right –I, the both of us, have a lot of hope! In fact, when we have these conversations, it inevitably comes to the terms you used — new life, and we've both approached these steps forward as a sort of rebirth, which… makes absolute sense in the context of the dream.
Strange sex dreams, death of a loved one, weird things happening to your body… It's ALL in there!  Grab your copy of So, What Did You Dream Last Night?  and understand your dreams like never before!
"Your books have given me so much insight into my dreams it's crazy!!"   - Anne, Huntington, IN
Losing your purse, or even having it stolen is actually a very common dream.  For men, it is common to lose your wallet.  It can sometimes refer to money issu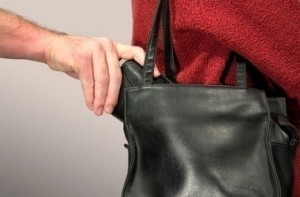 es but the more common meaning might surprise you!  Read on to find out what it means…
Dear Lauri,
I had a dream last night that I was in a mall and set my purse down to look at something. A man came up to me and started making small talk. I got a bad vibe like he was distracting me. I looked down and my purse was gone! I ran toward the entrance of the store to find the person but there were too many people and I knew it would be impossible. It was at this point when I woke up. - Julie 41, Wausau, WI
Lauri: To your dreaming mind, your purse symbolizes your sense of self, your credibility and your self worth because that is where we keep our IDs, credit cards and money. In your dream your purse was stolen, which means someone else is getting the credit or recognition you deserve. The crowd of people in your dream suggests you feel you are not able to stand out in a crowd. Were you recently up for a promotion but didn't get it? Or was there some other situation where you were hoping to get noticed but weren't?
Julie Replies: I found your interpretation very interesting and I was surprised how on the mark it was. Recently I have felt that my role at work and at home has not been very important. I've always been one to love the limelight but lately I feel my accomplishments aren't noticed or appreciated and that I am losing the confidence I usually have. There are so many talented people around me and I feel it's hard to measure up, let alone stand out.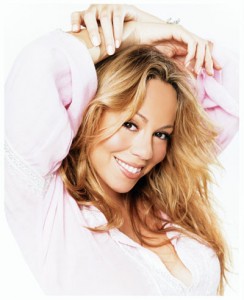 Celebrity Dream:
Mariah Carey has – for most of her life – had recurring dreams of losing her purse as well! She has reported that being inter-racial made her feel that she doesn't fully belong to either race. And being made fun of as a child certainly didn't help that either. I wonder if all those mean kids are laughing at her now?
Strange sex dreams, death of a loved one, weird things happening to your body… It's ALL in there!  Grab your copy of  So, What Did You Dream Last Night?  and understand your dreams like never before!
"I used your book this morning and decoded my dream. Awesome!!"   – Brook, morning show host on WUHU Bowling Green, KY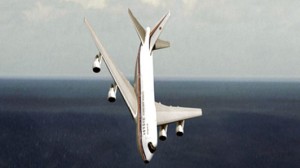 I remember when I was a little girl, about 5 or 6 years old, watching my poor mother vomit all over the coffee table the night before she was to get on a plane to go to Africa.  She was deathly afraid of flying, yet my father, being a world traveler, would drag her all over the globe.  According to ICR-International Communications Research one percent of women say they're afraid to fly, compared to 6 percent of men.  Considering that study after study shows that air travel is far safer than travel by car, that's a lot of fear that is out there.
I often wonder how many of those that are afraid to fly can connect the source of their fear to a plane crash dream.  I can't tell you how many times a listener has called in and told me they can't bring themselves to get on a plane because of the terror they experienced from a plane crash dream.  Most of these people fear that the dream is a glimpse of their future!  Of course, I have to reassure them by saying, "Plane crash dreams are so common that if they were showing us the future, we'd all perish in a plane crash and there wouldn't be a single plane that ever reached it's destination safely."
That brings me to why plane crash dreams are so darn common… Because we all have high hopes that come crashing down from time to time. 
I was a guest on KAT Country in Modesto, CA with DJ Walker yesterday morning when a lady called in wanting to know why she is constantly dreaming of plane crashes.  Listen to the audio below and find out what high hopes she had that came crashing down around her.

Oh, and as far as my mom… she finally overcame her fear of flying by going to a hypnotist!  He gave her a subconscious suggestion to use everytime that fear starts creeping up on her, and it's been working for her for over 25 years now!  The subconscious is an amazing thing and it speaks to us every night when we dream.  But if you can't understand its language, you aren't getting its messages. Grab yourself a copy of one of my books and you'll easily understand your dreams every morning… and get a HUGE edge in life.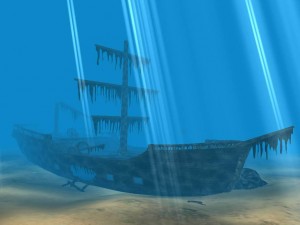 Every Wednesday I get to dissect a sex or relationship dream for my friends at  Em and Lo: Sex, Love and Everything In Between  This week's dream is from a guy who died…
I dreamed that I died and I ended up in a place where there were other people walking around. Everyone knew we were dead and there were buildings and rooms, it looked like the world we live in today. I kept feeling like I urgently needed to come back to the living, especially go back to my girlfriend, and I was desperately looking for a way to come back to life. There were people there I knew but I don't remember who they are and someone told me they knew how to come back to life. He told me when an old man whistled (or maybe it was hummed) there is a chance to get through.
I don't remember what happened next but we did something to get through whatever that was and I was underwater deep under the sea on an old wooden pirate ship. Everyone was dead aboard the ship and it was carrying me to up to the surface. They knew I was on board with this other person and were trying to catch us and get rid of us and we somehow disabled the ship and escaped.
From this point on I don't know what happened to the other person but next thing I know I'm alive, I feel a huge pressure in my chest and I'm going to see my girlfriend and family. I find her and my family and I'm with her and I think I'm holding her and all the pressure is released from my chest and a sensation of relief comes over me. I don't remember how long I was dead for though, could have been 6 days, 6 weeks, or 6 years. (Kind of eerie I would remember it like that, 6-6-6). That was all that happened but I remember thinking in my dream how my body was in perfect condition and I thought how maybe it should have been decayed or rotting but it wasn't. I hope you can help, I've never died then come back to life in a dream before! Thanks!
Lauri: Dreaming of one's own death can be very concerning, but you may be happy to know it's also pretty common. Death, to the dreaming mind, is connected to something changing or ending in waking. In what way has your life — as you now know it — come to an end or changed? Is there something you have had to let go of? Any issue you have had to lay to rest? Or perhaps you've become dead to the world in some way. Have you become cold and unemotional?
Throughout the dream you are trying to come back to life so you can get back to your girlfriend. What is it you are trying to revive in the real world? Did your relationship go through some turmoil and are you trying to get it back to the way it was? Or are you trying to get yourself back to the way you were so you can enjoy your current relationship? That may be what the old pirate ship is about. Ships in dreams are often connected to a relationship. Is there an old relationship that went horribly wrong and that caused you to submerge your anxieties rather than deal with them?
Long story short, it seems that you may have gotten something off your chest, hence the release of pressure from your chest in the dream. Your body is in perfect condition because, despite what you thought, you did not sustain any serious emotional damage from the past. Looks like you are ready to live again!
Don't let your dreams frighten you!  Let them enlighten you!!  Grab yourself a copy of one of my books and you'll easily understand your dreams every morning and get a HUGE edge in life.
"All my friends come to me now when they want to understand their dreams.  Your books have made me very popular!!"   – Gina, Syracuse, NY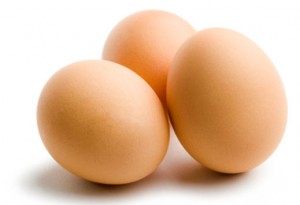 Every Wednesday I get to dissect a sex or relationship dream for my friends at  Em and Lo: Sex, Love and Everything In Between  This week's dream is from a woman who has a crush on a co-worker…
I have had a crush on a co-worker for months, but I've been in a monogamous relationship this whole time.  As far as I know he's single, but he's higher up than I am.  We're on good terms, but have never done anything alone together, just been at company parties together and talked a bit.
I've had several dreams about him. The first involved him inviting me to his new apartment which was spacious and sunny; we went out on the balcony and saw people showering in the yard, then went inside and made out. The most recent dream, right after having pretty passionate sex with my real partner, entailed him inviting me over to "cook multiple eggs"; at one point he juggled the eggs and after that we had sex. 
The weekend of the second dream, my boyfriend and I had a condom issue and I had to get Plan B, so I was worried about eggs in a vague way and also ate duck eggs for the first time.  I was angry at my partner, too, because he thought I was getting too upset about needing to get Plan B for the second time in a few years.
Lauri: "We always long for the forbidden things, and desire what is denied us."   So sayeth French writer Francois Rabelais.   When we cannot get what we want in waking life, the dreaming mind will kindly compensate, and your dreams are fine examples of that.  In your first dream you are invited to your crush's new apartment because in waking life you desire to be invited into his life.  His apartment is spacious and sunny because you may very well have hidden hope that  he has space for you in his heart and hope for a bright future with him.
The showering people are interesting!  They are showering out in the open which is very symbolic of "coming clean" and getting your feelings "out in the open."  That is why the next thing you do is make out.  Kissing in a dream can always be connected to conversation in waking life, conversation that recently happened or conversation that needs to happen.
In the second dream, the "multiple" eggs have multiple relevance.  Of course, they are connected to your fear that one of your own eggs may be in danger of fertilization.  Then there is the connection of trying duck eggs for the first time, and then the third connection is to the old saying "Don't put all your eggs in one basket."  You have a crush on another guy and were mad at your guy at the time of this dream.  It's only natural to – at least subconsciously – wonder what another's basket may be like.  And your crush juggles the eggs because… well, when one takes action on their forbidden desires for another, some careful juggling must be done.  Just ask Tiger!
But rather than attempting to do a dangerous juggle, you may want to do some introspection first and ask yourself which desire is stronger, the desire for someone else or the desire to continue your current relationship.  Just remember, it's called a crush for a reason… sometimes it's not reciprocated.
Response from dreamer: Thank you!  Sometimes things are obvious once someone else tells us them.
Strange sex dreams, death of a loved one, weird things happening to your body… It's ALL in there!  Grab your copy of So, What Did You Dream Last Night?  and understand your dreams like never before!
"Your books have given me so much insight into my dreams it's crazy!!"   - Anne, Huntington, IN