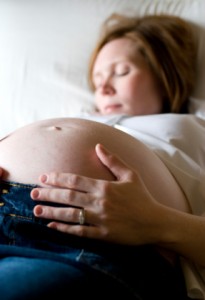 The other day I was a guest on the morning show on WNCY in Green Bay WI with my old radio buddy Bear.  His co-host Charlie is expecting and had a disturbing dream that her baby was born without a face!  Naturally, this dream upset her quite a bit and was actually what prompted them to book me.
Due to the content of the dream I suspected this was her first pregnancy… sure 'nuff, it is!
I assured her that it's very common to have this dream when you are pregnant the first time… and it is caused by imaptience!  She's eager to see that baby!  What is it going to look like?  WHO will it resemble?? I wanna know already!!  But the dreaming mind says, nope. You're going to have to wait til it's done cooking, lady.  Charlie was quite relieved and agreed whole-heartedly that she's never been so impatient for something in her life!
Other common dreams that reflect the first time mom's impatience are:
*Dreaming the baby is born with teeth
*Dreaming the baby can talk
*Dreaming of giviing birth to a toddler or child
*Dreaming you can see inside your belly
Dreams during pregnancy can be hilarious and can also be horribly frightening for both mom-to-be and daddy-to-be.  Being able to understand those dreams can give you peace of mind as well as a new perspective on your pregnancy, what's going on with your body and your relationship with the father.
I have an entire chapter on dreams during pregnancy in my book So, What Did You Dream Last Night?  I cover the dreams you can expect to get during each trimester and even cover daddy-to-be dreams too!  Grab your copy here: http://www.thedreamzone.com
Are you pregnant and having strange dreams?  Or do you remember your bizarre dreams when you were pregnant?  Share them in the comments section.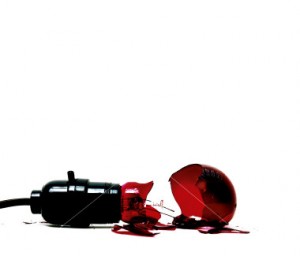 I am forever preaching on the air and in my books that numbers in dreams point to something very specific in your life, so when a number stands out to you in a dream you would do very well to pay attention to it and try to connect it to something in your waking life.  I had a dream the other night that is a perfect example.
MY DREAM
In my dream, I was with my husband and son at an outdoor market.  I came across a box of party lights. It cost 48 cents.  What a bargain!  I bought it, we took it home and when I opened the box, every single light bulb was broken.  Just then, a deer jumped into the porch an into a pool we apparently had in the porch.  Then it jumped out. As it was running off I screamed at it, "No!  Come back! Don't Go!!" Oh well.  I resumed decorating the porch with the broken lights anyway.
INTERPRETATION
When I woke up, the first thing I focused on was the broken lights. Usually broken glass in a dream reflects broken hopes. Well, I certainly had my hopes broken… a couple weeks before I had miscarried at 9 weeks.  Okay, I figured that part out. Now what about the number 48?  That was a tough one, I had to think about it… Hmmm… I wonder… I lost the baby on January 4th, according to the doctor I conceived on Nov 17th… wow. That's 48 days.  Amazing how I consciously had not bothered to figure out how many days I was pregnant but yet my inner mind knew.  The inner mind is very intune with the body.  It never ceases to amaze me!
Deer in dreams are often about something or someone you hold dear to you.  Obviously the baby was dear to me… it was unexpected, but still very dear.  And It came into my life and left it just as suddenly as the deer jumped into and out of my dream.  And this is why I yelled after the deer to "come back, don't go."  I didn't want that baby to go away.  After my miscarriage, all I could think about was how much I wanted it back.  sigh.
MORAL
But it's okay.  These things happen and we will move on and try again.  And that is why my dream showed me continuing to hang up the broken lights anyway.  My wise and caring dreaming mind was telling me, yes, your hopes have been broken, but that doesn't mean they don't work… so keep your hopes up.
Remember, all your dreams mean something. And what's more, like every great story ever written, they also have a moral, a message, advice designed specifically for you.
Want to be able to figure out the meanings and messages in your dreams like I can?  I have two powerful books that will show you how! Go to http://thedreamzone.com and start understanding your dream language now!