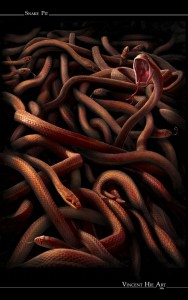 Cats, dogs and snakes are the three animals we dream about the most. Why cats, dogs and snakes? I'm sure the fact that these three are common pets plays into it, but even more is that these three creatures represent how we all tend to behave in our relationships… and what relationship doesn't have its issues?
Case in point, Listen to the audio below and find out how this man's recurring snake dreams are a brutally honest commentary on his relationship. This is from when I was a guest on WPXY in Rochester, NY with Spezanno and Sandy…


What about you? Have you had any notable snake dreams? Share them in the comments section.
Are you dreaming of fish, snakes, dogs, or other animals? Then you gotta grab yourself a copy of my book So, What Did You Dream Last Night? It's ALL in there!  And it has pretty cool dream inspired illustrations too!!
"I bought this book for my daughter and she loved it so much she told me I had to get one of my own! Thank you!!"   -    Yvette, Santa Maria, CA