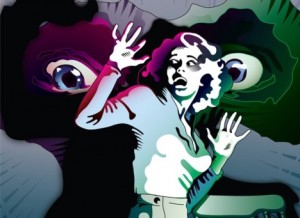 Every single night approximately 14 million Americans are jolted awake by a nightmare.  Nightmares are no fun but they happen to be the most important dreams of all!  Nightmares alert us to something that is wrong in our life, something that needs immediate attention.  The longer we ignore or mis-handle an issue, the more and more hostile our dreams become… until they reach nightmare status!
Yesterday I was guest on WOMX on the Scott and Erica Morning Show in Orlando FL to discuss nightmares for Halloween week.  The very first call got us started off just right with a really creepy nightmare about a crucified dog.  Listen to the audio below.  The real life story behind the nightmare is a perfect example of how a mis-handled issue will result in a nightmare…

What about you?  What is the creepiest nightmare you've had?
Don't let your dreams frighten you!  Let them enlighten you!!  Grab yourself a copy of one of my books and you'll easily understand your dreams every morning and get a HUGE edge in life.
"Your books have been a life saver for me!  Being able to understand my dreams has helped me to turn my marriage around because they were showing me what I have been doing to make our situation worse. Wow. It's unbelievable how helpful my dreams have been to me.  I can not thank you enough."   - Tammy, Flagstaff, AZ