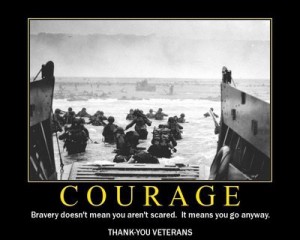 You know how dreams are, they're full of over sized or mis-shapen objects, bizarre creatures and Twilight Zone-esque story lines… that is, unless it is a Post Traumatic Stress Disorder dream.   Unlike normal dreams, which utilize symbolism to communicate with the dreamer about his current life issues and goals, PTSD dreams are often literal representations of an actual traumatic event the dreamer has experienced. Victims of rape and/or abuse tend to suffer from PTSD dreams, individuals that witnessed or survived a catastrophe tend to suffer from PTSD dreams but the most common sufferer of PTSD dreams are war veterans.
On this Veterans' Day, I want to share with you a glimpse into the psyche of a war-time veteran who currently suffers from PTSD dreams. He called in when I was on the air with Rick Rumble on FM99 in Norfolk, VA.  His dream shows how lost war-time vets feel after returning home, how their lives and their psyches are in pieces and how they are stuck emotionally and psychology due to the trauma they have witnessed and experienced. If you don't want to listen to the chit chat in the introduction, simply forward to the :50 mark where Josh, the vet calls in.  Also, don't laugh when I say "VW."  I meant VA. 


Can you imagine having to relive something so horrible every time you went to sleep? Josh has a tough road ahead of him but rest assured it is a road that will get easier, so long as he sticks to dream-work and continues getting the help the VA is offering.  I wish I had thought of it while I was on the air with Josh because I would have loved to have given him a copy of my book  Cracking The Dream Code which has an interactive day and dream journal as well as all my secrets and tips to controlling your dreams.
If you know a veteran who is suffering from PTSD dreams, please forward this post to them. They don't have to continue living this way. They can overcome it and they can become whole again… and even stronger than they were before! Oh, also, please give them a hug and a big "Thank you" from me.