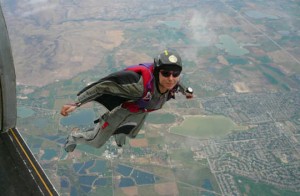 I've done many posts on what planes in dreams can mean: planes crashing, planes spinning out of control, planes taking off, but I've not done one on someone jumping from a plane.  In general, planes in dreams often represent something in your life that you have "high" hopes for, something you hope will "take off" and reach new levels, such as a relationship, your job, a project, etc.  Knowing this fundamental definition, it's pretty easy to figure out what it means when you dream a plane crashes or can't get off the ground.  So what would it mean the, if you dreamed of someone jumping out of a plane?
Last week I was a guest on 93.7 The Cat in Spokane, WA when co-host Bob had that very dream…


As you now know, even the type of plane has something to say about your waking life.  Every detail in a dream is important.  Our dreams have a cool way of piecing together – seemingly random – objects, people and situations in order to show us the big picture of what's really going on in our current life.  When you know how to piece your dreams together, you'll be amazed at how much information, advice and guidance you will see.
Grab yourself a copy of one of my books and you'll easily understand your dreams every morning and get a HUGE edge in life.

"Wow, what an amazing book so full of information! I will def be keeping this one on my nightstand and refer to it often!" – Kristi Roach, Angola, IN