This is a pretty funny video my brother forwarded to me about violent dreams. In the video the "In The Know" panelists discuss whether seeing images of dead babies and bludgeoned prostitutes in our sleep is desensitizing Americans to violence.
Go ahead and give it a watch, and then I'll tell you what violent dreams are REALLY about. By the way, the F bomb is dropped in this video so be careful if you're at work or around children…
The truth about violent dreams is this… the longer you ignore or mis-handle an issue that needs correcting, the more violent and hostile your dreams will become, until they reach nightmare status! You can go about your day denying there is a problem or simply ignoring it in hopes that it will go away, but at night when you sleep, your issue rises to the surface and your dreaming mind forces you to deal with it.
Let's touch on the dreams in the video.
Dismembered limbs – Something or someone has been or needs to be severed from your life. The anxiety that causes this dream is from your pain over the separation. Either something or someone has left your life that you wanted to hold onto or you know a separation needs to happen but you are afraid to act on it.
Dead babies – A terrible image but an important one. A project, a relationship, something that you cared about that was just getting started has suddenly ended. Your dream is trying to show you this isn't something you can revive so you are best moving on.
Murder - A need to forcibly put an end to something in your life such as a bad relationship, an addiction, a bad behavior, an issue that is not good for you OR a desire to change something about someone around you.  OJ Simpson had recurring dreams of murdering Nicole before he finally acted on it.  Unfortunately he took the dreams literally when his dreaming mind was probably only urging him to kill off his obsession with her.
Spiders – Bugs in dreams mean something is bugging you.  Spiders in particular often point to deceit, a web of lies! Is someone around you not being honest with you?  Or are you the one not telling the truth?
What can you do to reduce the level of violence in your dreams?
The dreaming mind is brutally honest and does not tolerate complacency! So the next time you get a dream full of blood, dismembered body parts or murderous rampages, you need to pinpoint what's been troubling you lately and realize it is high time you be honest with yourself about the situation and do what you need to do to nip it in the bud so you don't end up like the poor sleep deprived woman in the video above!
There are over 1000 dream symbols explained in my book Cracking The Dream Code.  No need to let those troublesome dreams bother you again!  When you can understand your dreams, you can change your life!
"Your books have made a huge difference in my life. Because of your books, I am more aware and open to my dreams and translating them is starting to seem effortless. Thank you!"   – Victoria, Las Vegas, NV
…in his dreams he is! 
Tom Jones revealed a recurring nightmare he has on The View this week, that he has murdered somebody, hidden the body and the police have found it. 
Countless people have reported this very same dream to me.  This is indeed a guilt induced dream, but not over something as severe as murder!  Remember, emotions are exaggerated when dreaming.  Most often, these dreams are triggered by guilt over something we have put an end to, such as a relationship, a diet, a project, something that is causing us to second guess ourselves.  That is where the police come in.  They represent our ability to "police" our actions and behaviors, our ability to do the "just" thing. When we go against what we know is right, our "dream police" will show up to set us straight!
So what do you think ol' Tom is feeling guilty about?

Nightmares are the most important dreams of all because they are alerting you to something in your life that needs correcting, something that needs your immediate attention.  Understanding your nightmares can save you from a lot of needless pain in waking life. Nightmares are fully covered in my book So What Did You Dream Last Night? Demons, murder, corpses, blood, it's all in there!!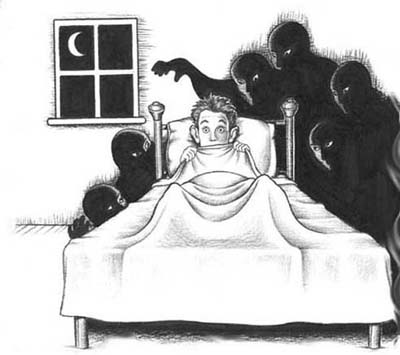 One of the most common dreams I am asked about when on the air is the one where you are in your bed and a dark, sinister presence enters the room.  It is so terrifying that you're unable to move, speak out or scream.  Very often it is difficult to breathe because the creature is on you, suffocating you!  Some folks shake or feel like they are leaving their bodies.
People are horrified by this experience and , understandably, believe they have been haunted because it is very real and some swear they are awake.
The truth is, this is not a dream… nor is it a haunting.  It is actually a fascinating physiological experience called Sleep Paralysis, or The Old Hag Syndrome! And there is not a thing one should worry about when it happens.
Here's the deal, when we sleep and enter the REM state, which is when dreaming takes place, our brain releases a chemical that literally paralyzes our skeletal muscles so that we don't act out our dreams.  When we've had a fitful night of sleep or haven't slept long enough, we will start to wakeup before our brain can re-activate our muscle control, which causes us to get "stuck" in that inbetween state of sleep and wakefulness.  This is called Hypnogogia.  Cool name, huh?  In this state you are asleep and awake at the same time, which is why you are aware that you are in your room and in your bed.  This is also why you can't move, speak or scream… because you are still paralyzed!
Now, about that dark, frightening creature in the room.  That is still a mystery to many researchers but I have a theory.  We tend to have fitful nights of sleep because something is "weighing heavy" on us - hence the pressure on the chest.  There is some negative force in our life that is keeping us from sleeping peacefully.  It can be anything from debt, to relationship troubles.  And in Dream Psychology, negative elements in our life often show up in our dreams in the form of a dark shadow, a monster or some other villainouscharacter.  So when we are temporarily stuck in that Hypnogogic state, which is a hallucinatory state btw, it is no wonder that the very thing that is causing disrupted sleep would still be present in our mind.  I have spoken to numurous people who have experienced this and when asked if was something heavy on their minds that night the answer has always been yes.
If this happens to you… fear not!  It is mostly physiological and will subside in a moment or two.  It is not harmful in any way and does not mean there is anything wrong with you.  No need to call your priest or the ghost hunters!  The cure is to try to get your negative issues off your mind before bedtime.  Try writing out what is bothering you at bedtime.  Get it out of your mind and onto paper.  Very often, writing it down can also help you sort out your thoughts and even come up with ideas on how to handle it.  Plus, this will ensure your dreams that night will work hard on your issue for you.  After all, that is the purpose of dreaming.
That dream you're wondering about right now is trying to tell you something YOU NEED TO KNOW! When you can understand your dreams, you can change your life.  Find Out What Your Dreams Mean Right Now
"I used your dictionary to look up some of the symbols in my dream and wow….  I had no idea that dreams could tell so much! It's great to have this understanding and I wanted to thank you."   – Patty, Toledo, OH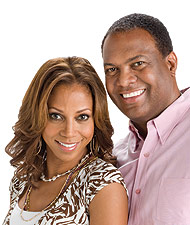 On Halloween Day I had the pleasure of appearing on Oprah and Friends radio to discuss the dark side of dreaming with Rodney and Holly Robinson Peete.  Rodney told me about recurring nightmares he has about being kidnapped, blind-folded and dropped out of a helicopter. Yikes!
Go ahead and click on the link below to listen.  A lot of your nightmare questions will be answered!!
http://www.oprah.com/article/oprahandfriends/peetes/20081031_oaf_peetes
Don't let your dreams frighten you!  Let them enlighten you!!  Grab yourself a copy of one of my books and you'll easily understand your dreams every morning and get a HUGE edge in life. Put "facebook" in the coupon code at checkout and save
40%!!
"All my friends come to me now when they want to understand their dreams.  Your books have made me very popular!!"   – Gina, Syracuse, NY
Since this is the week of all things scary, I thought we could have some fun and delve into the nightmares some of our favorite celebrtits have had.  I recently did an interview with the Daily Blabber at ivillage.com where we talked about what haunts the dreams of Madonna, Rihanna and more…
Halloween Special: Celebrity Nightmares
What better time to talk about celebrity nightmares than on Halloween? I interviewed Cracking The Dream Code author Lauri Loewenberg, who has analyzed the dreams of many famous Hollywood folks, and she spills their nightmare secrets…
Which celebrities have you worked with and is there one that sticks out as being the most memorable?
Lauri: I've talked with Diane Sawyer, Star Jones, Desperate Housewives' James Denton, Anderson Cooper, Rihanna, Alice Cooper, and Dustin Diamond. And, no — not a sex dream… thank God!
The most memorable celebrity interaction was with Rihanna. She had a nightmare about watching a plane crash into a building and pieces of it landing on her brother. Naturally, she had no idea why she had this dream and worried it might be telling her something bad was going to happen to her brother. I told her the plane represents her career and how it's "taking off." It crashes in her dream because she fears her career might come crashing down before she reaches her career goal. (Plane crash dreams are very common with celebrities, by the way.) I asked her how her relationship with her brother is and she said they are very close and she misses him very much. That made me realize that she's concerned her rising celebrity — that has her jetting all over the place — might harm the close relationship she had built with her brother, the building representing that relationship. She got pretty emotional at this realization. She obviously loves her little bro a great deal.
Did you ever have to tell a celebrity that something they were dreaming about was a dire warning that their subconscious was communicating to them?
Lauri: Thankfully no. Well, not yet!
Let's have you decode some of recurring nightmares that celebrities have. Madonna has said that she has a nightmare that she's being attacked by a dwarf with a knife. Do Lourdes, Rocco and David have to worry about their mum's safety?
Lauri: No, no! Certainly not. I love Madonna's nightmare because it reveals so much about her. Madonna is a huge celebrity. She keeps getting this nightmare because her big fear is to diminish — or be "dwarfed" — in the public eye. That knife is significant too because it represents wounding and cutting remarks — criticism. This nightmare shows us that Madonna, despite her hordes of fans and accomplishments, really lets criticism "bring her down." I wonder if she's been having this dream since she returned from Malawi.
Back in 1997, Whitney Houston had recurring dreams of trying to cross the George Washington Bridge as it started to break apart. Do you think that was a premonition about her marriage going south all these years later?
Lauri: If only she had heeded that warning! Actually, bridges in dreams are all about transitions, our ability to get from one point in life to the next. I don't think this dream was foretelling of the demise of her marriage to Bobby Brown, but it does show us that she's not the most stable individual. She doesn't have confidence in her ability to make it through tough situations or transitions. This may be why she turned to drugs. Godspeed, Whitney! We believe in you.
Star Jones told you that she dreams over and over that she's drowning. Is a membership at the Y out of the question?
Lauri: [Laughs] That might not be a bad idea. She also told me she doesn't know how to swim, so that could play a role in her drowning dreams, but I believe it goes deeper than that. We'll dream of drowning when we are overwhelmed, when we are in over our head in responsibilities. At the time, she was co-hosting The View, was the spokesperson for Payless Shoes, an E! correspondent and planning a little wedding you may have heard about to a guy named Al. Yeah, I'd say she was definitely in over her head.
Winona Ryder has said that she has a nightmare about being on a beach and seeing kids about to fall off a cliff. But she wasn't able to run in the sand, so she couldn't save them in time. What in the world does this mean… and does it have anything to do with trying to outrun security at Saks.
Lauri: Now behave, young lady! Actually, Winona says she used to have this dream all the time and it really bothered her. At the time of these dreams, Winona was worried that something precious to her — symbolized by the children — was falling away. Perhaps she was worried about falling out of someone's graces, a "young" relationship falling away, losing a part she really wanted… or maybe she feared the idea of growing up, in which case the children would represent her childhood. Whatever the case, the dreams stopped indicating that Winona overcame the issue.
Lastly, I keep having dreams about celebrities. The other night I was hanging out with K-Fed. Matthew McConaughey tried to set me up with his friend. Does this mean I'm going crazy… or am I just working too much?
Lauri: As Freud once said, "Sometimes a cigar's just a cigar!" …or maybe that was Monica Lewinsky. Anyhoo, you need a vacation, sister!