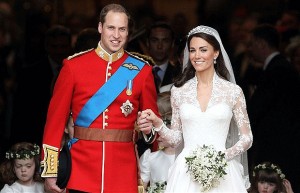 It's a dream similar to one you've probably had many times.  She's walking down the aisle in nothing but her birthday suit!  According to the UK's celebrity rag Now …
Kate Middleton's reportedly been having recurring dreams that she's naked as she walks down the aisle at her wedding to  Prince William.

The Princess-to-be, whose big day's expected to be watched by billions on Friday, is unsurprisingly having last-minute jitters ahead of the ceremony.
'Her nerves have manifested in an interesting way,' claims a royal source. 'A recurring dream she hadn't had for years has raised its head again.
'She finds herself in front of the congregation and then becomes suddenly aware she is completely naked.'
The anxiety dream mirrors a similar one Kate, 29, is said to have had in 2006, just before she started her new job as an accessory buyer at Jigsaw.
And in the embarrassing nightmare, Kate desperately tries to protect her modesty.
'There is a deathly silence – and everyone from the Queen to Prince Philip is staring at her,' the source tells The Sun.
'Kate has joked the worst bit is she can't work out which parts to cover.'
This isn't a bit surprising. It's times like this that the dreaded "naked in public" dream surfaces, whenever you are in a situation where all eyes are going to be on you!! The dream is a manifestation of  the vulnerability that such a situation creates within you, the worry over how others may perceive you. I got the naked dream the night before I was on Good Morning America! But have you ever noticed that in the naked dream, no one else in the dream seems to give a flip that you're baring your shiny hiny? This  is the way your inner mind is reassuring you that it's all okay, that you are the only one giving this situation so much thought… so chill!
Even the royals feel vulnerable from time to time.  Mazel tov to the lovely young couple today!!
Naked dreams, weather dreams, sex dreams, animal dreams, it's all in there! Grab your copy of Dream On It and understand your dreams like never before!

"Ms. Loewenberg has a keen understanding of how the dreams work and explains them in terms that are easy to understand. It took me less than three days to finish this book and now, I'M A DREAM EXPERT! Everyone dreams and everyone wonders at one time or another what the meaning of our dreams truly means. If you want to find out, BUY THIS BOOK NOW!"
- Skip Mahaffey, Author: Adventures With My Father: Childhood Recollections of Divorce, Dysfunction and the Summer of Love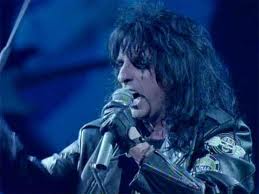 Today is rock icon Alice Cooper's birthday! In honor of the day this earth was blessed with this awesome Rock God, I would like to share with you the time he interviewed me on his radio show Nights With Alice Cooper.
If you've got 10 minutes, please do listen! You'll learn a lot about the nature of dreams, the most common dreams, why we get nightmares and Alice even shares a nightmare he had when he was 6 years old! Pay close attention to that part because I think it very well may have been the genesis of his macabre persona! I just listened to it again for the first time in a couple of years and it really is a riveting conversation. We talk about everything from tidal waves to addiction.


Your dreams are such a powerful part of who you are.  They are giving you answers and direction, even warnings you need to know every night of your life. Why wouldn't you want the ability to understand these important, even life-changing messages? Grab yourself a copy of one of my books and you'll easily understand your dreams every morning and get a HUGE edge in life.
"I absolutely love your books! They are helping me sort my dreams out already." – Belinda, Savannah, GA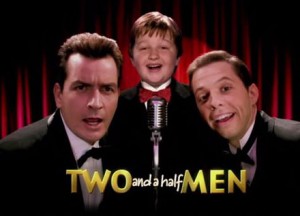 Ever watch the show Two and a Half Men (one of my very favorites!) and as the end credits roll you see a snap shot of a message?  It's literally on screen, at the end of the credits, for one second.  Well, hubby and I happen to Tivo all the Two and a Half Men episodes and watch them during breakfast in the morning.  One morning dear hubby decided to pause the Tivo when that sneaky message popped up, and so we read it… and we laughed… and we laughed a little more.
These little messages are called vanity cards, and Chuck Lorre, Producer of Two and a Half Men, The Big Bang Theory and Dharma and Greg (a not too shappy resume!) puts these vanity cards at the end of all of his shows.  They are his rantings, ravings, and humorous observations about… well anything!  They are well worth the pasue button!
I know, this seems like a random thing to blog about, but the reason I am is because of the vanity card I read today after watching a recorded Two and a Half Men.  It was a dream Chuck Lorre had about his mother AND he even provides his own – surprisingly insightful – Jungian analysis!!   I thought I would share it with you…
CHUCK LORRE PRODUCTIONS, #110
THE DREAM: I'm in a cemetery, attending a funeral. I'm not sure whose it is. My mother, who died a year ago, is there — alive but not well. We leave the funeral and I take her back to a place I used to live that is now unfurnished and cold. There is no food there. I leave her there anyway. I then find myself shopping in a supermarket while holding a baby swaddled in a blanket. The supermarket is run by young people. They play rock music too loudly for a supermarket and seem to be having a good time. I keep losing the baby, putting it down and forgetting where I put it. I select two items and go to the checkout stand where I'm told that one of the items, some sort of raisin bread, is very expensive. I tell the check-out girl I don't want the raisin bread and then realize I've lost the baby again. Thankfully I find the baby but then decide I can't leave my mother in an empty house. I hurry off to bring her back to where I now live, a comfortable home with all the amenities.
MY ANALYSIS: The funeral is for my inauthentic self. The self that's been conditioned by parents, culture and environment to survive by whatever means necessary. It is a frightened, angry thing which I'm just now realizing is not my true identity. My mother played a powerful role in its formation. I take her to a barren place because I have not been able to confront nor integrate her influence into my consciousness. The baby is my authentic self. The essential soul that exists before conditioning. I alone am responsible for that self's well-being and am constantly abandoning it in favor of the illusory comfort of the false self. The supermarket is filled with food, music and youthful energy which symbolizes the wisdom, creativity and vitality which nurtures the soul. There is a high price to pay for these things. It is the price of freedom. I balk at paying that price. Finally, I retrieve my mother and bring her back to the nice house, which means I'm ready to bring her influence in my life up to a conscious level.
CONCLUSION: My wakeful thinking is not drenched in metaphor, therefore the dream must have originated from some eternal source of compassionate wisdom, or, I shouldn't read books about Jungian psychology before I go to sleep.